Four out of six finalists perform on bowed stringed instruments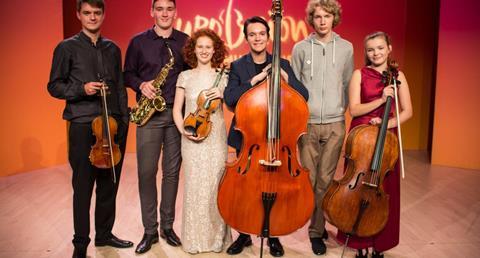 Six contestants have made it to the final of the 2018 Eurovision Young Musicians competition. Four of the finalists are string players: double bassist Indi Stivín (16, Czech Republic), violinist Mira Foron (16, Germany), cellist Birgitta Elisa Oftestad (16, Norway) and violinist Nikola Pajanović (18, Slovenia). The other two finalists are pianist Ivan Bessonov (16, Russia) and saxophonist Máté Bencze (18, Hungary).
All six musicians will perform a movement from a concerto in the final, taking place on Thursday 23 August at the Usher Hall, Edinburgh, UK. They will be accompanied by the BBC Scottish Symphony Orchestra (SSO) under chief conductor Thomas Dausgaard. The final will be live-streamed on YouTube here.
The finalists have been selected from an original line-up of 18 contestants, of which ten played bowed strings. The winner will receive a trophy, a €7,000 cash prize and a performance opportunity with the BBC SSO in the next season.
Previous winners of the competition have included Julian Rachlin (1988), Natalie Clein (1994), Julia Fischer (1996), Alexandra Soumm (2004), and Ziyu He (2015).
Photo: Helena Nilsson / EBU