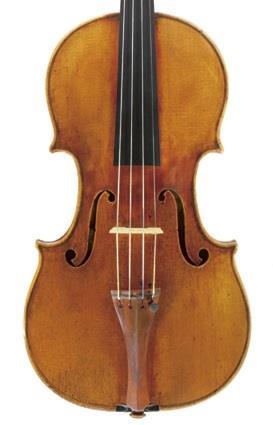 Eight of Stradivari's best known violins are to go on display in Los Angeles as part of the Los Angeles Chamber Orchestra's Strad Fest LA event, which will run from 26–29 March 2014.
The eight instruments are the 'Serdet' Strad of 1666, the 1708 'Ruby' (pictured), the 1711 'Kreisler', the 1720 'Beechback', the 1714 'Leonora Jackson', the 1715 'Titian', the 1716 'Milstein' and the 1720 'Red Mendelssohn' violin.
According to the event's organisers it will be the first time these instruments – valued at over US$25 million collectively – will have been displayed together.
A series of concerts and events will include Fiddlefest – billed as 'an edge-of-your-seat fiddle face-off featuring world-class violinists outplaying one another in an acrobatic program of solos, duos, trios and quartets starring the Stradivarius violins.'
Other events will include a discussion and demonstration by the British luthier and Stradivari expert Peter Beare, a performance of Telemann's Concerto for Four Violins in D major from violinists Cho-Liang Lin, Philippe Quint and Chee-Yun, and a gala performance involving all eight Stradivari violins in a programme of works by Vivaldi, Locatelli and Piazzolla.
Among the participating violinists will be Los Angeles Chamber Orchestra leader Margaret Batjer, Martin Chalifour, principal leader of the Los Angeles Philharmonic, Xiang Yu, Elizabeth Pitcairn and eleven-year-old Ray Ushikubo, who has appeared alongside pianist Lang Lang and performed at Carnegie Hall.
Subscribe to The Strad or download our digital edition as part of a 30-day free trial.