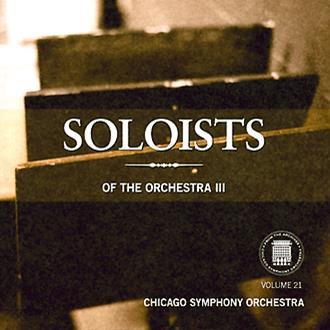 The Strad Issue: January 2007
Musicians: Samuel Magad (violin) Victor Aitay (violin) Frank Miller (cello) Chicago Symphony Orchestra, Mariss Jansons, Jean Martinun, Daniel Barenboim etc (conductors)
Composer: Korngold, Rósza, Boulez, Vivaldi, Mozart, Gould, Elgar etc
Best known as a film composer, Miklos Rózsa wrote first-rate concert music in a very attractive sub-Kodály style. The Sinfonia concertante for violin and cello is typical and I always enjoy it. The performance here, showcasing Chicago Symphony principals Victor Aitay and Frank Miller, is the 1966 premiere. It is a cracker. Aitay understands his Hungarian compatriot's style to perfection and Miller's wonderfully grounded playing is a joy to hear. Jean Martinun conducts with commitment.
Erich Wolfgang Korngold wrote one great tune but omitted to include it in the Violin Concerto he cobbled together from old bits of movie music. Samuel Magad does his best, but he is not Heifetz or Perlman and Mariss Jansons's accompaniment is lacklustre.
Disc Two of this set devoted to radio recordings from the orchestra's concerts, ends with a superb piece for seven cellos by Boulez, beautifully played by the Chicagoans and skilfully conducted by Daniel Barenboim. There is also a little speech by Georg Solti in memory of Frank Miller, followed by 'Nimrod' from the Enigma Variations.
Disc One has splendid performances by the orchestra's brass and wind soloists. Recordings on both discs, from radio broadcasts of the orchestra's concerts, are variable but mostly excellent.




TULLY POTTER