Twenty violinists will take place in the Quarter Final round in January 2020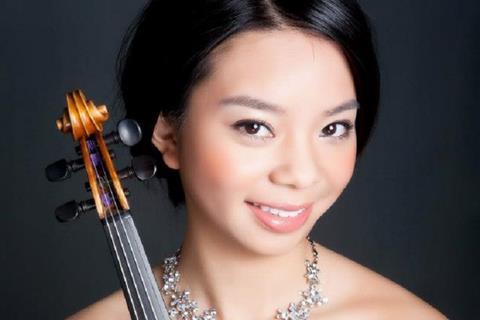 Twenty violinists have been selected for the Quarter Final round of the 2020 Elmar Oliveira International Violin Competition (EOIVC), to be held in Boca Raton, Florida, from 16-18 January 2020, at Lynn University.
Selected from nearly 70 applicants from 19 countries, the quarter finalists are:
Jacqueline Audas (24, United States)
Zachary Brandon (21, United States)
Jung Min Choi (25, Korea)
Brian Kwan Yeung Choi (25, Hong Kong)
Cristian Grajner de Sa (25, United Kingdom)
Agasha Grigoreva (20, Russia)
Igor Khukhua (27, Russia)
Jeein Kim (24, Korea)
Minchae Kim (25, Korea)
Dainis Medjaniks (26, Germany/Latvia)
Haerim Oh (20, Korea)
Ashley Jeehyun Park (23, United States)
Julian Rhee (19, United States)
Vikram Francesco Sedona (19, Italy)
Alexandra Alvarado Switala (26, United States)
Daniel Temnik (25, Israel/Canada)
Boyang Wang (29, China)
Angela Wee (22, United States)
Katherine Woo (21, United States)
Christine Wu (24, United States)
Should any EOIVC Quarter Finalists not be able to fulfill their position, the two Alternates are: Ria Honda (19, Japan) and Thompson Wang (20, United States/Taiwan).
The Semi Final Round will take place from 21-22 January, and the Final Round, in which participants will be accompanied by the Lynn Philharmonia under conductor Jon Robertson, will take place from 25-26 January,. All rounds are open to the public and tickets for the Final can be purchased at www.lynn.edu/events.
As part of the competition, all four Finalists will also participate in a special Community Engagement Round, in which they each give a 45-minute interactive presentation to children, aged 8-11, from the Plumosa School of the Arts.
Established in 2016 by the violinist Elmar Oliveira, and first held in 2017, the competition takes place every three years. Its mission is to provide talented violinists, aged 16-32, who are at the start of their careers, with networking, management, public relations, community engagement and concert opportunities. There is also a monetary reward of $30,000, $15,000 and $10,000, for the first, second and third prize winners respectively.
The 2020 judges are: David Cerone (Chairman of the Jury), Andrés Cárdenes, Ilya Kaler, Sung-Ju Lee, Silvia Marcovici, Mihaela Martin, Gerardo Ribeiro, Barry Shiffman, Kathleen Winkler.