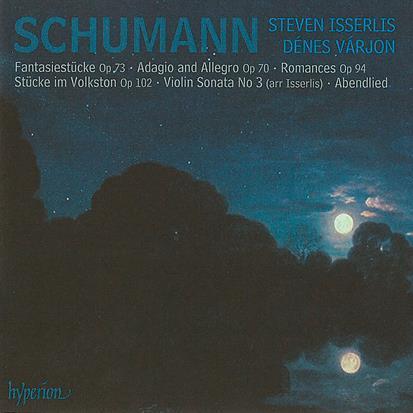 The Strad Issue: January 2009
Musicians: Steven Isserlis (cello) Dénes Várjon (piano)
Composer: Schumann
Isserlis, a self-confessed 'Schumann nut', here revisits much of the repertoire he included with his 1997 Schumann Concerto recording for BMG, with a few additions and a new pianist. He also has the advantage of not one but two Strads this time, his usual 'De Munck' of 1730, plus the 1726 'Marquis de Corberon' – and no, I wasn't up to guessing which was used for which track!
This is mature Schumann playing, born of a long immersion in the composer's works. The atmosphere is intimate and the sound warm and immediate, with balance between the two instruments first rate and the odd audible breath before a phrase only adding to the recording's naturalness.
As Isserlis points out in his notes, the only works written by Schumann for the cello are his Concerto, the Five Pieces in Folk Style and the Romances that Clara destroyed. The Five Pieces, played with boisterous exuberance, with the double-stops in the tranquil middle piece singing out like a choir of voices, are joined here by transcriptions, sanctioned and otherwise, which add up to a very well-filled disc.
Isserlis's performance of the Fantasiestücke, in Schumann's subtly different first version entitled Soiréestücke, is notable for its ardour and completely unaffected freedom, the octave C shift in the first piece beautifully accomplished, like a long sigh. The incredible coda that closes Isserlis's transcription of the Violin Sonata, in which high and intricate arabesques weave over the top of the sustained piano melody, would unfortunately put all but the most virtuoso cellist off this fiery, dramatic work.



JANET BANKS