Tim Homfray visits London's Wigmore Hall for the performance of Boccherini on 27 March 2023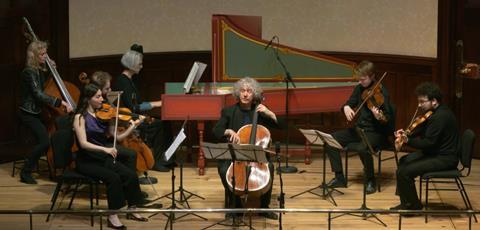 Boccherini is still best known for just one piece, the Minuet from his E major String Quintet op.11 no.5. Of course it had to be present, and duly appeared as a cross between an unscheduled final item and an encore, announced by Steven Isserlis as 'Guess what?'.
The players opened with the String Quintet in D minor op.13 no.4 (with two cellos), played with flowing elegance and warmth. The melody of the central Andante sostenuto was beautifully shaped first by the leader Jonian Ilias Kadesha and next by Isserlis, who then embarked on a little cadenza. Its final Fuga was suitably lively and upbeat.
The first movement of the Cello Sonata no.2 in C minor (with Isserlis and Maggie Cole) demands much of the string player, with some high, challenging passagework that tested even Isserlis's normally immaculate intonation. There was more nifty fingerwork in the Largo, played with understated emotional intensity, and he tackled the ebullient, often double-stopped, final Allegretto with aplomb.
Everyone joined together for the Cello Concerto no.7 in G major, as demanding as it is beguiling, with many a smile, and with Isserlis bringing to the cadenza style and panache. The Adagio was a spellbinding lyrical stream, and the soloist made the most of the effervescent rhythmic vitality of the final Allegro.
TIM HOMFRAY