The prize is awarded every two years to a young professional ensemble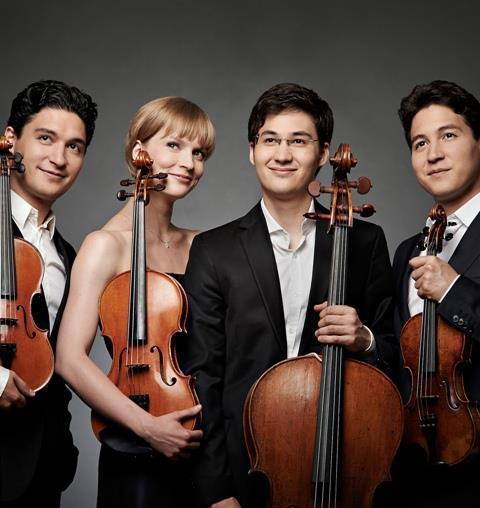 The second Jürgen Ponto Foundation prize for chamber music, worth €60,000, has been awarded to the Schumann Quartet (pictured) from Cologne. The award, which also includes performing opportunities at Beethovenfest in Bonn, the Heidelberg Spring Festival and the Schleswig-Holstein Music Festival, is given every two years in support of a professional young ensemble which has already won an international competition. The Amaryllis Quartet, also from Cologne, won the prize in 2012.
The Schumann Quartet consists of three brothers — Erik, Ken and Mark Schumann — and violist Liisa Randalu. Founded in 2007, the ensemble won the International String Quartet Competition 'Quatuor à Bordeaux' in May 2013 and the Schubert and Modern Music competition in Graz in 2012. The quartet was also among the prize winners at the Paolo Borciani Competition in Italy and the Seventh International Chamber Music Competition in Osaka in 2011. The group's debut CD, released in April 2013 on ARS Produktion, features works by Beethoven, Bartók and Brahms.
The Jürgen Ponto Foundation has supported young German artists in the fields of visual and performing arts and literature since 1977. The chamber music prize is also open to musicians from Austria and Switzerland. On this year's jury were Frank Siebert from the Schleswig-Holstein Music Festival, Dominik Winterling from the Heidelberg Spring Festival, Dr Tilman Schlömp from Beethovenfest Bonn, Dr Andreas Eckhardt, musical curator of the Jürgen Ponto Foundation, and Ralf Suermann, executive board member of the Jürgen Ponto Foundation. The official award ceremony will take place this autumn in Berlin.
Photo: Kaupo Kikkas
Subscribe to The Strad or download our digital edition as part of a 30-day free trial. To purchase back issues click here.