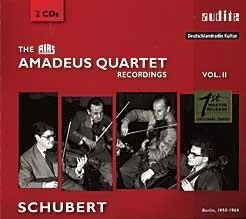 The Strad Issue: January 2014
Description: Welcome release of archive broadcast recordings from a vintage ensemble
Musicians: Amadeus Quartet
Composer: Schubert
Audite's series of the Amadeus Quartet's radio archive recordings for RIAS–Berlin continues with fascinating snapshots of that ensemble's Schubert performances between 1950 and 1964. These players penetrate well below the music's surface in the earliest recording (D887, from 1950), shaping the lines to reflect both poetry and youthful exuberance, achieving commendable blend and balance and capturing the work's underlying sense of drama with sharply graded contrasts. Roughness occasionally results, particularly in the turbulent outer movements, but their accounts of the slow movement and scherzo are delightful.
Two of Schubert's earlier quartets, D87 (1951) and D173 (1964), in which leader Norbert Brainin has a predominant role, find him and his colleagues more reserved and lacking full control of rhythm, tone and tuning. Their 1956 reading of D804 also seems restrained and somewhat pensive, creating a winning inner calm and overall intensity despite some insensitive chordal playing and some typically idiosyncratic contributions from Brainin.
Pick of the bunch is their 1954 performance of 'Death and the Maiden', for they are responsive throughout to the expressive demands of Schubert's turns of melody and harmony. Those bent on carping will doubtless pinpoint occasional technical imperfections, but there is a striking passion and humanity about the interpretation, including especially telling readings of the coda of the first movement and much of its variation-form successor. Overall, transfer from tape appears to have been skilfully engineered and these two discs are refreshing and revealing reminders of what was the gold standard of quartet playing in the 1950s and 60s.
Robin Stowell