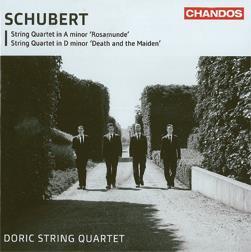 The Strad Issue: January 2012
Description: Schubert that benefits from an undemonstrative period sensibility
Musicians: Doric Quartet
Composer: Schubert
The Doric Quartet, which has been winning repeated acclaim for its series of recordings for Chandos, here presents a rewarding disc of two of Schubert's greatest quartets. It is all superbly crafted, beautifully recorded, and the ensemble delivers crisp and exciting interpretations.
As an exponent of 19th-century performing practice, I am glad to see an ensemble – without any outward declarations of being 'historically informed' – executing these works in such a way. There is much use of senza vibrato tone, as at the start of the second movement of the 'Rosamunde', and there is even some willingness towards portamento as in the first movement of the same quartet. The problem with restraining one's received notions of continuous vibrato is what to do with sustained notes, and there are thus some slightly shapeless results – as in the third movement of the 'Rosamunde'. Meanwhile, sharp staccatos – as in the rather overly aggressive start to 'Death and the Maiden' – can make one yearn for a little more warmth at times. These are minor quibbles, however.
What one has here is refreshingly fresh-faced with a welcome avoidance of cliché. One of the most enjoyable listening experiences I have had for a long time.



David Milsom