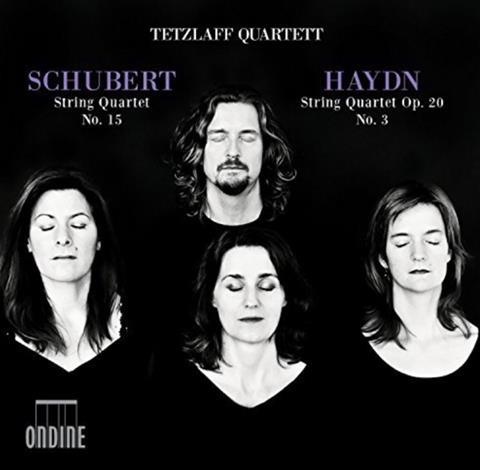 The Strad Issue: June 2017
Description: Theatrical playing that's almost too intense but always interesting
Musicians: Tetzlaff Quartet
Composer: Schubert, Haydn
Catalogue Number: ONDINE ODE 1293-2
Extreme dynamics feature from the opening of Schubert's G major Quartet – there is an alarming crescendo not far from the start. The sound has an orchestral richness, emphasised by the resonant acoustic. The rhythm is crisp, and there are strong contrasts between staccato and legato. This is all in the score, of course, but is performed here with a heightened theatrical intensity. Moments of repose are all the more telling: the start of the first-movement recapitulation is an oasis of beauty.
There are more such cherishable passages amid the turmoil of the Andante; the opening cello melody is tenderly shaped by Tanja Tetzlaff and the little canon between cello and first violin is a delight. The scherzo has presages of quicksilver Mendelssohn, tripping along with delicacy and absolute precision. In the finale the players are more interventionist than in the earlier movements, elucidating phrase shapes within the scurrying triplets with touches of rubato or the occasional hiatus. It all amounts to a glistening and powerful performance.
The players make much of the curiosities In Haydn's G minor Quartet, its sudden contrasts, hesitations, asymmetries and abrupt changes of direction. Too much so perhaps, but the result is certainly vivid and constantly interesting.
Tim Homfray