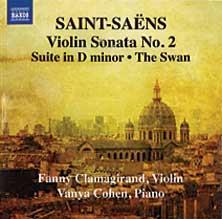 The Strad Issue: January 2014
Description: Consummate artistry on display from a young French violinist
Musicians: Fanny Clamagirand (violin) Vanya Cohen (piano)
Composer: Saint-Saëns
This disc comprises a pleasing balance of well-known works and more unusual ones. It continues Fanny Clamagirand's successful collaboration with Naxos (she has already recorded the Saint-Saëns violin concertos for the label) and builds on an eminent career for this ex-Paris Conservatoire recipient of the 2005 Kreisler Competition prize.
The balance of Vanya Cohen's sensitive but at times powerful piano playing (the opening of the second movement of the unfinished sonata is a good example) as well as Clamagirand's wonderful litheness and clarity won me over immediately. All of the performances are good – the Suite, for instance, is full of vitality and interest, with delicacy in its Romance and great declamation in its finale. The Second Sonata, as epitomised by its third movement, is full of variety, from a weightlessness and experimental non-vibrato mystery to a fun fugue. And the smaller pieces are beautifully shaped: the Méditation has some wonderful top notes, but the star of the show for me, unexpectedly, is The Swan – rescued from being a potboiler and given an extraordinarily yearning quality here in a version for violin and piano.
Though there are a few blemishes (some over-wide vibrato and a wobbly last note to the third movement of the Second Sonata), this disc delivers sensuous playing of the highest standard.
David Milsom