Period-instrument ensemble plays French repertoire with sensitivity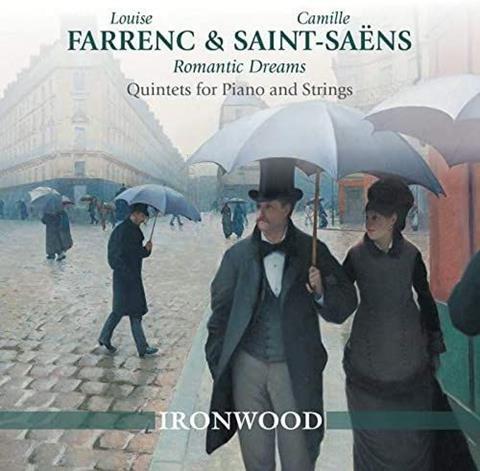 The Strad Issue: March 2021
Description: Period-instrument ensemble plays French repertoire with sensitivity
Musicians: Ironwood
Works: Farrenc: Piano Quintet no.1 in A minor op.30. Saint-Saëns: Piano Quintet in A minor op.14
Catalogue number: ABC CLASSICS ABC4819887
ROMANTIC DREAMS
Featuring a restored 1869 Paris-factory Érard concert grand piano and 'period' stringed instruments, Ironwood's historically informed interpretations of these mid-19th-century piano quintets are outcomes of meticulous research. They draw effectively on performing practices described in relevant pedagogical treatises and preserved on early recordings, including some by Saint-Saëns himself.
Scholar-pianist Neal Peres Da Costa predominates in both works, his contribution reflecting the virtuoso pianism of their composers and the articulated precision and asynchronistic performing style of that time. He meets head-on the various technical and expressive challenges, particularly in the Farrenc's opening movement, taken more steadily than prescribed, and in the Saint-Saëns' Presto, scarred slightly by some heaviness and unevenness of touch. The string players enjoy some moments of solo prominence, notably in the slow movements and in the finale of the Saint-Saëns, and add appropriate, if intentionally reserved, vibrato and portamento; however, they are often too distant in the balance, especially when the piano is in its higher registers or plays repeated fortissimo chords, as in the Farrenc's Adagio.
The recording is otherwise spacious and clear, and these artists are commendably sensitive to harmonic, phrasing and structural detail, performing with unanimity throughout and introducing subtle rubato, accentuation and tempo modification to enhance expression.
ROBIN STOWELL