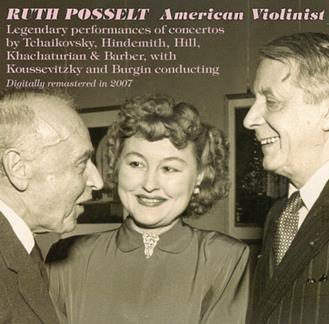 The Strad Issue: January 2008
Musicians: Ruth Posselt (violin) Allan Sly (piano) Boston Symphony Orchestra, Serge Koussevitzky (conductor) plus other orchestras & conductors
Composer: Bloch, Hill, Hindemith, Villa-Lobos, Prokofiev, Arbos, Khachaturian, Tchaikovsky & Barber
The Boston Symphony Orchestra (BSO) audience, before whom Ruth Posselt (1911–2007) appeared a record 64 times, must always have been glad to see her, knowing she would turn in a consistent performance. Born in Medford, Massachusetts, she studied with an elder sister, the Sevcík pupil Emanuel Ondricek and Jacques Thibaud. Her career was centred on Boston and she married the long-time BSO concertmaster Richard Burgin. She recorded a fair amount of chamber music commercially but little with orchestra.
Making her way in a man's world led Posselt to concentrate on new music – she gave several important premieres. This sequence of mainly live material begins with an intense Bloch Baal Shem from 1967, when she was a little past her best. Despite imperfect tuning she is well inside the music and it is nice to have the orchestral version. In the 1938 premiere of E.B. Hill's rather eclectic Concerto we hear her at her peak, with clear E string tone.
Posselt gives a gutsy performance of the Khachaturian Concerto in 1955, with tremendous virtuosity in the long cadenza, lovely playing in the slow movement and a hyperactive finale. The 1951 recording of Hindemith's Concerto makes her sound a little shrill but the work is well delivered, with an eloquent slow movement.
The Barber Concerto from 1962, the only stereo item, is nicely played and some strain in Posselt's tone may be due to the tape not being 'official' – the fact that the set is not for sale in the US is a giveaway. The basic sound is good but as with other things in this box, I wish the best possible source material had been obtained.
This problem is most acute in a decent but sonically compromised Tchaikovsky Concerto from 1944 and various undated items from an LP which seem to find Posselt past her heyday, although poor sound quality may contribute to the impression of strain. At her best, as in the first of Prokofiev's Melodies, she still plays beautifully.
In the last analysis, I find her lacking in individuality. But this set with its well-presented booklet should interest collectors of historical violinists.
TULLY POTTER