Bass and piano duo breaks the mould and excels in borrowed repertoire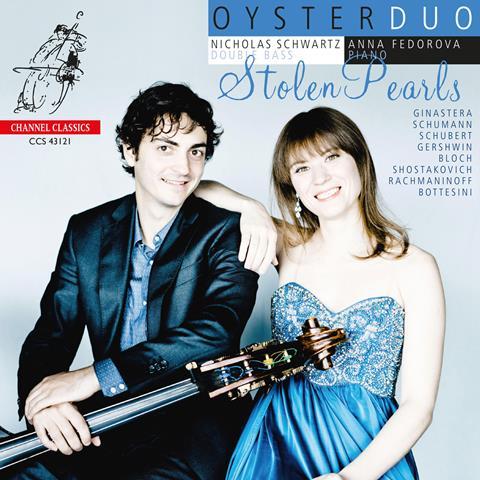 The Strad Issue: July 2021
Description: Bass and piano duo breaks the mould and excels in borrowed repertoire
Musicians: Nicholas Schwartz (double bass) Anna Fedorova (piano)
Works: Bloch: Prayer. Bottesini: Tarantella. Gershwin: Prelude no.2. Rachmaninoff: Song op.4 no.4. Schubert: Arpeggione Sonata D821. Schumann: Fantasiestücke op.73. Shostakovich: Adagio (The Limpid Stream). Ginastera: Cinco canciones populares argentinas op.1
Catalogue number: CHANNEL CLASSICS CCS43121
Many performers have raided other repertoires to enhance that of their instrument, and so it is de rigueur for the double bass to do likewise. But few bassists manage to be convincing in solo works, their deep, husky tones consigned to bolster the orchestral lines.
From the first note in this beautifully recorded disc, Nicholas Schwartz eschews such stereotypes. Already a much-lauded bassist and cellist, he immediately compels the listener to share his narrative. He is a masterful storyteller, making the bass sing in the manner of a cello. No surprise, then, that some of the items are vocally oriented, such as the sumptuous and melancholic Rachmaninoff song 'O never sing to me again', where his dulcet tones implore and coax.
Schwartz and pianist Anna Fedorova are equally persuasive in the adept arrangement of Ginastera's Canciones populares argentinas. Bloch's Prayer refers to cantorial incantation, and once again Schwarz eloquently captures the emotional range, from the dolente whisper to fervent devotion. In performing the much-borrowed Schumann's Fantasiestücke, Schwartz allows the bass to shine, and in Schubert's Arpeggione, the Lied quality to resonate. For Gershwin's Prelude no.2 he begins with a jazzy introduction and showcases his affinity with that genre as well. He is in essence a masterful bassist across the repertoire, and a figure to inspire.
JOANNE TALBOT