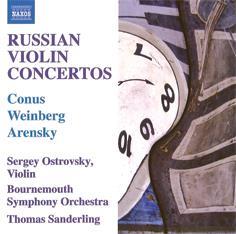 The Strad Issue: January 2011
Description: Three rarities of the Russian concerto repertoire given lyrical readings
Musicians: Sergey Ostrovsky (violin) Bournemouth Symphony Orchestra/Thomas Sanderling
Composer: Conus, Weinberg, Arensky
Such are the vagaries of taste and fashion that the glorious Conus Concerto is only now beginning to establish a foothold in the repertoire, despite Heifetz's and Perlman's distinguished advocacy on disc. At first, the plaintive, small-voiced intensity of Russian–Israeli violinist and leader of the Aviv Quartet Sergey Ostrovsky may appear to lack physical impact by comparison (only partly a question of his more natural balancing), yet once the ear adjusts his sweet-toned, exultant lyricism is highly compelling.
The Arensky, another impassioned work in the Tchaikovsky mould, cast as a single, near-continuous structure, also benefits from Ostrovsky's blemish-free phrasing and beguiling purity of sound. When the unforgettable second theme is transformed into a gently swaying waltz, he captures the mood to perfection, and the way his relatively narrow, fast and wonderfully sustained vibrato leads the ear from phrase to phrase recalls Christian Ferras in his prime. Played like this it is hard to believe that the work has not become a regular concert hall favourite.
The Weinberg Concertino, a relatively early work dating from 1948 and not published until as recently 2007, is an inspired coupling, whose delight in radiant cantabile and self-effacing virtuosity provides the perfect musical match. Ostrovsky plays beautifully throughout and receives first-rate support from Thomas Sanderling and the Bournemouth Symphony Orchestra, captured in well balanced, atmospheric sound.
JULIAN HAYLOCK