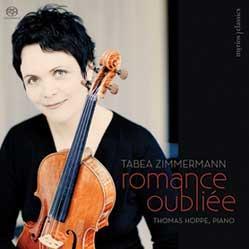 THE STRAD RECOMMENDS
The Strad Issue: March 2015
Description: Zimmermann takes a break from Hindemith with a selection of viola lollipops
Musicians: Tabea Zimmermann (viola) Thomas Hoppe (piano)
Composer: SItt, Glazunov, Vierne, Vieuxtemps, Wieniawski, Liszt, Kreisler, Kodály
In contrast to her Hindemithian labours of the last couple of years, for this recording Tabea Zimmermann has chosen some lighter fare in which she consistently uncovers telling details of compositional craft, backed to the hilt by Thomas Hoppe's always revealing pianism.
Hans Sitt's Album Leaves are a collection of character pieces of almost Schumannesque quality, one including a 'gypsy' middle section, another looking forwards to Fauré, yet another a breathless perpetuum mobile. Zimmermann takes due note of Sitt's performing indications, using natural harmonics and single-string phrasing to idiomatic effect. While Vierne's 'Le soir' breathes the perfumed atmosphere of a fin-de-siècle French salon, his 'Légende' strikes a note of faux folk simplicity, prompting a diametrically different sound from Zimmermann.
The 'con moto' marking of Vieuxtemps's Élégie is taken at face value, avoiding the piece's potential sentimentality, but even these interpreters can't quite redeem its bombastic ending. Kreisler's Aucassin et Nicolette is treated to an impish rubato worthy of the composer himself. In the title track, one of those futuristic late Liszt pieces, Zimmermann and Hoppe cast a trance-like spell. Even if elegiac melancholy has the upper hand, this recital is a beautiful addition to Myrios's growing catalogue; the recording quality and presentation are up to the label's usual high standards.
CARLOS MARÁA SOLARE