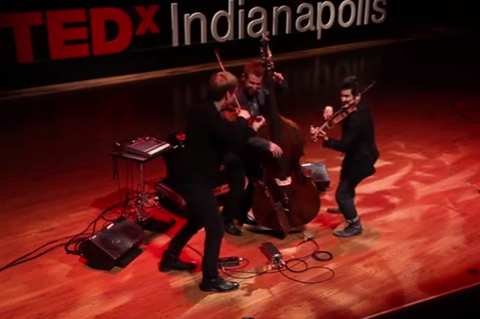 Time for Three, the classically trained, multi-genre spanning string trio from the US, is the first signing by the new Universal Music Classics label, recently launched by Universal Music Group.
Formerly known as the Decca Label Group, the new label signifies a 'revitalised commitment' on the part of Universal Music towards its classical music division. Elizabeth Sobol, the newly appointed president and CEO of Universal Music Classics (UMC), aims to 're-imagine classics' and engage with a younger and wider audience by cultivating new artists for the new label.
Time For Three will record their UMC debut later this year with American recording artist, songwriter and actor Joshua Radin. The CD release and subsequent tour are planned for 2014.
Full press release:
Universal Music Classics Revitalized with New Label Name, Strategic A&R Focus, Partnerships and Initiatives with Leading Arts Institutions & Key New Appointments
Elizabeth Sobol, newly appointed President & CEO of Universal Music Classics, is spearheading the division's revitalized commitment to the best that "classics" stands for – music rooted in the classical tradition, while also encompassing a variety of genres including contemporary, jazz, and world music. Formerly known as Decca Label Group, the new Universal Music Classics (UMC) aims to "re-imagine classics," with a new focus on U.S. based A&R signings, while remaining the American home of the prestigious Decca, Deutsche Grammophon, Mercury Classics and Panorama imprints, and continuing its long-standing relationship with the esteemed ECM label.
The division's new strategies are highlighted by recent key staff appointments by Sobol, who was named President & CEO of the division earlier this year by Max Hole, Chairman & CEO of Universal Music Group International. Elizabeth Sobol brings her wide-ranging and deep expertise to the role including serving as Managing Director of IMG Artists, and many years as personal manager to internationally renowned artists including Joshua Bell, Itzhak Perlman, Emerson String Quartet, Evgeny Kissin and James Galway.
Sobol's first two notable executive appointments since taking up the role are Leslie Collman-Smith, who recently joined UMC as Senior Vice President of Marketing, and Collin Rae who has joined as Vice President of Digital Sales and Marketing.
Formerly of Sony's Masterworks label, Collman-Smith was instrumental in campaigns for key artists including Joshua Bell, Yo-Yo Ma, The Piano Guys and Tedeschi Trucks Band, among many others. She began her career at Sony Music Distribution in 1994, and joined Sony Classical in 2004 as Director of Marketing, later becoming VP of Marketing and Media for the label. At UMC, Collman-Smith's primary area of focus will be leading marketing efforts on non-core classical releases, as well as working on new initiatives, business development and revenue diversification.
In his new role, Rae joins UMC with a strong background in marketing and the digital space, having spent six years at Naxos of America overseeing both digital marketing and special projects. In his new role he will be the main liaison with iTunes for the division and will lead the creation and implementation of strategic marketing plans for both frontline and catalogue UMC titles. Collman-Smith and Rae both report to Sobol, with immediate effect.
With an emphasis on cultivating new artists for UMC, Sobol's first signing is the Curtis Institute-trained Time For Three, who will be recording their UMC debut later this year with special guest Joshua Radin, with their release and a subsequent tour also featuring Radin planned for 2014. Sobol has also joined forces with the Metropolitan Opera's Peter Gelb to release the historic and triumphant return to the podium of James Levine, in concert with Evgeny Kissin and the MET Opera Orchestra recorded earlier this year at Carnegie Hall. The recording was released September 30thon Deutsche Grammophon.
As part of UMC's new strategy, the division is announcing partnerships with like-minded organizations who share UMC's goal of engaging with a younger and wider audience for "classics." Epitomizing this approach, in November UMG's international "Yellow Lounge," a classics-meets-club initiative will launch in the U.S. "Yellow Lounge" presents a new generation of vibrant classical artists who break musical and cultural boundaries, in visually innovative and alternative spaces. Yellow Lounge's U.S. partners include The Sonos Studio in Los Angeles (11/5), Le Poisson Rouge in New York City (11/10), City Winery with WFMT radio in Chicago (11/11) and YoungArts new multidisciplinary arts campus in Miami at the new lounge/space designed by Frank Gehry, in partnership with Classical South Florida Radio 89.7 (11/22).
Max Hole, Chairman and CEO of Universal Music Group International comments, "Elizabeth has brought a new and exciting creative vision to Universal Music Classics. The new team are lining up a series of brilliant new releases by American based artists. UMC will be the label to watch".
Elizabeth Sobol comments, "I am delighted to be welcoming Leslie and Collin to UMC. Both have the passion and creativity that is so necessary as Universal Music Classics enters a new phase. Despite certain challenges in the industry, we believe that state of actual music-making in America has never been more fresh or more vital. Embarking upon new initiatives, we are relishing our reinvigorated role as artistic partners and change agents in the field."
Subscribe to The Strad or download our digital edition as part of a 30-day free trial.
Photo: Sherry Ferrante