Edward Bhesania reports from a chamber music festival in the Belgian town of Knokke themed around its illustrious one-time resident, Eugène Ysaÿe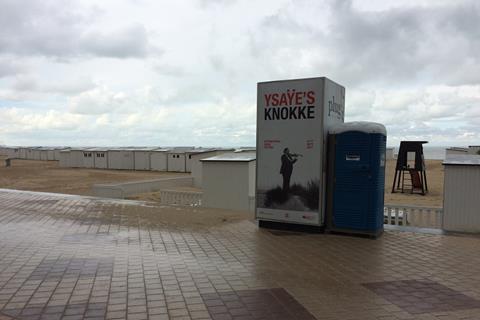 The upmarket resort town of Knokke, on Belgium's north coast, was the setting for the first 'Ysaÿe's Knokke' chamber music festival, instituted by French-born violinist Philippe Graffin. It was Graffin's idea to honour Ysaÿe, who settled for a period in Knokke, attracting fellow composers and performers to his home, as well as students including Graffin's own teacher, Josef Gingold. Reflecting this atmosphere, the four-day festival included nine public masterclasses in which Graffin and fellow professionals coached young musicians, and all seven concerts gave a platform to young soloists, often in collaboration with Graffin and his team. Knokke is where Ysaÿe wrote his six great solo violin sonatas, but the festival also explored his lesser-known chamber works, as well as pieces by friends in his circle, including Vieuxtemps, Wieniawski, Franck, Debussy, Fauré, Chausson and d'Indy.
I arrived on the second day, on which the evening concert (at the Dominican Church) opened with Ysaÿe's Trio 'Le Londres', the three young players giving full voice equally to the work's richly wrought lines. After chamber works with mezzo-soprano by Ysaÿe's brother Théophile and by Joseph Jongen and Saint-Saëns came d'Indy's Lied with cellist Amy Norrington (daughter of Roger), who found just the right balance of nostalgia and radiance in her unfailingly natural lyricism. Graffin then appeared in Brahms's Hymn in Honour of the Great Joachim – a joke in waltz time for two violins and double bass (with tuning up and false starts built in), written for Joachim's 22nd birthday – and in Elgar's Piano Quintet, the players bringing out the work's dark colouring and widely shifting moods.
The following day began with a morning screening of an affectionate documentary about Ysaÿe, introduced by musicologist Michel Stockhem, before a noon concert back at the Dominican Church. Highlights were the Elmire Quartet playing two movements of Saint-Saëns's String Quartet in E minor – their rigorous preparation and high level of ensemble playing making it hard to credit that these four Paris Conservatoire students got together only last year – and a hauntingly searching performance of Ysaÿe's cello-and-piano Méditation spotlighting Dutch cellist Ella van Poucke. The afternoon brought a seafront view from the Memlinc Palace Hotel as Graffin coached a violinist in Enescu's Impressions d'enfance. Amid the rapid fire of ideas and solutions, his focus was on defining the artistic intention; while at St George's Anglican Church, Amy Norrington invited the recently heard Elmire Quartet to open up to the idea of more communal risk-taking.
Attended by Princess Marie-Esméralda of Belgium, the gala concert at Knokke's Casino featured two rarities – Saint-Saëns's Septet for string quintet, piano and trumpet, and Ysaÿe's Harmonie du soir for string quartet and orchestra – as well as Chausson's Concert for violin, piano and string quartet, which, as one of the musicians later observed, Graffin 'absolutely owned'. There was one concert on the Sunday before the converging musicians dispersed again: a resolute and committed performance of Haydn's Seven Last Words, in recognition of Ysaÿe's reflective and spiritual side. Indeed, at the festival's end, everyone left well and truly nourished.
Ysaÿe's Knokke took place on 14-17 September 2017