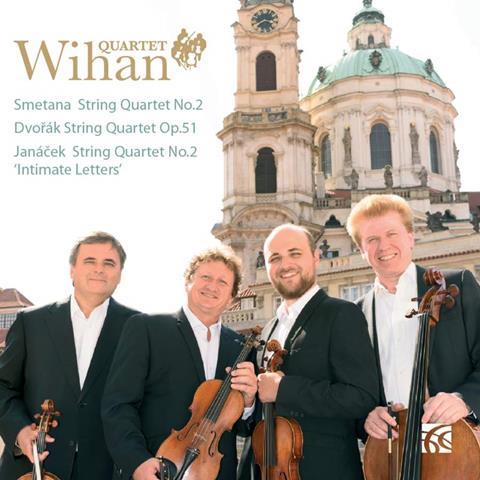 The Strad Issue: March 2019
Description: Authentic Czech voices offer some plain speaking
Musicians: Wihan Quartet
Works: SMETANA String Quartet no.2 in D minor DVOŘÁK String Quartet no.10 in E flat major op.51 JANÁČEK String Quartet no.2 in D minor 'Intimate Letters'
Catalogue Number: NIMBUS NI6376
The programme reflects the performers. The Wihan Quartet is based in Prague and forms part of the distinguished line of quartets from the Czech Republic, although anyone familiar with the ensemble's extensive recording output with Nimbus will know it is rather less reactive than an ensemble like the Pavel Haas Quartet, preferring a more grounded and grainy sound.
We also hear a less spacious acoustic in this well-caught recording than in some of its Nimbus predecessors, which is welcome considering the repertoire. Also new, since 2017, is the ensemble's cellist Michal Kaňka.
It's always good to hear an authentic voice in this music especially in performances as clean as these. That said, there's the definite feeling here of these works being presented rather than lived through, which in the case of the painfully autobiographical Smetana and Janáček works ultimately proves less involving that some alternatives (as witness recent performances, respectively, from the Quartetto Energie Nove or the aforementioned Pavel Haas).
Dvořák's op.51 doesn't demand the same degree of method acting but the Takács Quartet, for example, shows that the 'Dumka' movement can be deeply felt without sounding affected.
In short, the downside of the ensemble's attractive plain speaking is a slight lack of interpretative sophistication and linguistic shape.
ANDREW MELLOR