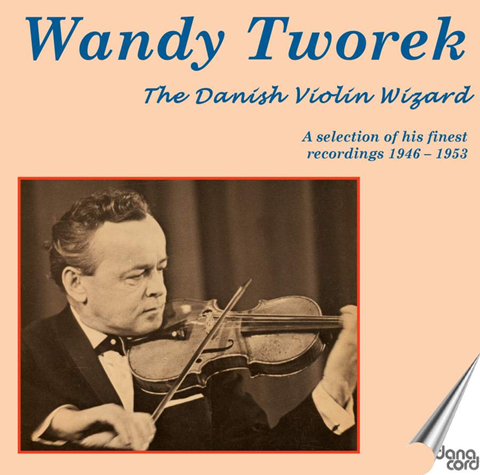 THE STRAD RECOMMENDS
The Strad Issue: August 2018
Description: A wonderful historical reminder of a 20th-century Danish whiz
Musicians: Wandy Tworek (violin), Charles Senderovitz (violin), Johan Hye-Knudsen (cello), Esther Vagning (piano), Danish Broadcasting Orchestra/Erik Tuxen, Emil Reesen Danish Broadcast Light Music Orchestra/Teddy Peterson
Works: Works by Bártok, Franck, Gade, Henriques, Hubay, Mortenson, Poliakin, Riisager, Sarasate, Tartini, Tworek and Wieniawski
Catalogue Number: DANACORD DACOCD 787-788 (2 CDs)
Born in Copenhagen of Polish and Ukrainian parentage, Władysław 'Wandy' Tworek (1913–90) originally learnt Polish but grew up thoroughly Danish. A brilliant café violinist, at 31 he made a complete switch to the classics, helped by the Joachim pupil Max Schlüter.
He played in Britain a lot and in 1951 made a legendary recording of Bartók's Solo Sonata, which comes up well in this edition compiled and transferred by Claus Byrith. Tworek understands the music's folk roots and apart from one or two places in the first movement where his intonation is tested, we hear superb playing that is full of character with lovely trills and echo effects in the Melodia, and nice articulation and double-stops in the finale. Wieniawski's Second Concerto is tastefully played and Tworek makes the most of the Gypsy effects in the finale.
Two three-movement sonatas by Knudåge Riisager, one for two violins and one for piano trio, have cheerful first movements, lovely slow movements and finales with pleasing interaction. We also get splendid versions of Franck's Sonata, the Tartini–Kreisler 'Devil's Trill' and Sarasate's Zigeunerweisen.
The short pieces include two of Hubay's Scènes de la Czarda, Bull's beautiful Shepherd Girl's Sunday, three of Fini Henriques's character pieces, Tworek's own Capriccietto and the best version of Poliakin's Le Canari I have heard. Some of the sound of these 1946–53 records is 'historical', with swish, distortion or surface noise, but the playing of Tworek and his colleagues comes through and most of his best discs are here. This collection is enthusiastically recommended.
TULLY POTTER