Benchmark recording of big-hitting but underrated 20th-century concerto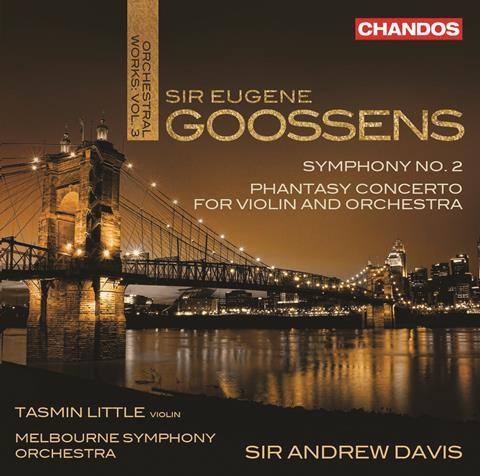 The Strad Issue: March 2020
Description: Benchmark recording of big-hitting but underrated 20th-century concerto
Musicians: Tasmin Little (violin) Melbourne Symphony Orchestra/Andrew Davis
Works:: Goossens: Orchestral Works vol.3: Phantasy Concerto; Symphony no.2
Catalogue Number: CHANDOS CHSA5193
Like Britten and Shostakovich before him, Eugene Goossens sets up a tension in his four-movement, symphonic Violin Concerto of 1948 that is only resolved at length by the finale. Walton's Concerto of 1939 is the obvious point of contact, however, not only for the bittersweet orchestral harmony but also the glinting brilliance of its solo part, devised with Heifetz in mind, and now revived with all the requisite passion and assurance by Tasmin Little.
Goossens was not the first composer to find his efforts snubbed by Heifetz, however, and the concerto had to wait until 1959 for a radio broadcast premiere, followed by a live performance directed by the composer at the BBC Proms in 1960. A record of the occasion has surfaced on YouTube, and for all the old-school projection and cantabile phrasing of soloist Tessa Robbins, it can't rival the urgency of Little's opening statement, her spiccato passagework like shards of flying steel in the Scherzo or the stillness and Holstian desolation cultivated by both Little and Davis in the concise slow movement. Amid a shoal of so-called underrated English orchestral works of the last century, Goossens's concerto is a big fish. I can't imagine it done better.
The Second Symphony shares the concerto's nervous, post-war intensity and Bartókian orchestration as well as its questing nature and conviction that old bottles may still hold a fine new vintage. The symphony would bring down the house at the Proms, especially directed by Davis, who knows the idiom inside out and secures a nimble, dynamic response from his Melbourne orchestra, recorded with ample depth and space in the concert hall at Monash University. Outstanding all round.
PETER QUANTRILL