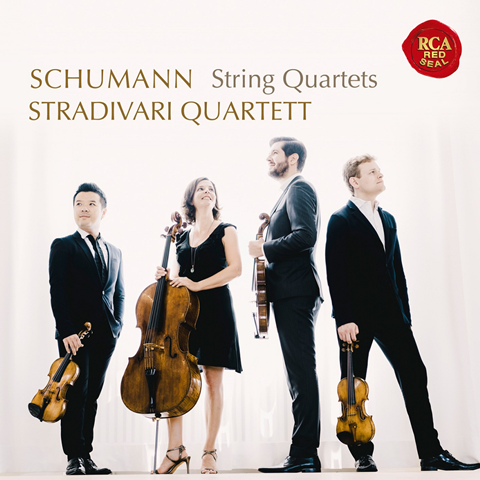 THE STRAD RECOMMENDS
The Strad Issue: July 2018
Description: A wonderful reminder of the delights of these three quartets
Musicians: Stradivari Quartet
Works: SCHUMANN String quartets: op.41, no.1 in A minor, no.2 in F major, no.3 in A major
Catalogue Number: RCA RED SEAL 88985492642
Schumann's three string quartets are surely exemplars of the old adage that the best is the enemy of the good. The third of them is standard repertoire nowadays, but the other two still lurk in the shadows. To hear this CD is to be reminded of what delights they all have to offer. The Stradivari players lay out their stall from the andante start of the A minor Quartet op.41 no.1 with clear, focused tone, warm sound and immaculate textural clarity – crucial in these contrapuntal works.
They are aided by excellent recording, in a resonant acoustic. The ensuing Allegro is fluid, and the second movement is dynamic, with taut rhythms. The Adagio becomes increasingly uneasy, and the final Presto is exuberant.
The opening allegro vivace of the Second Quartet op.41 no.2 presses forward enthusiastically, with a beguiling swing. The apparent simplicity of the andante is laced with sparkling details. The players make much of the misleading syncopations of the scherzo.
The syncopations in the first two movements of the Third Quartet op.41. no.3 are equally telling, unsettling in the opening allegro molto and deftly confusing the ear in the opening of the assai agitato. The finale is all clipped vitality.
TIM HOMFRAY