Spirited accounts of chamber music by a composer admired by Tchaikovsky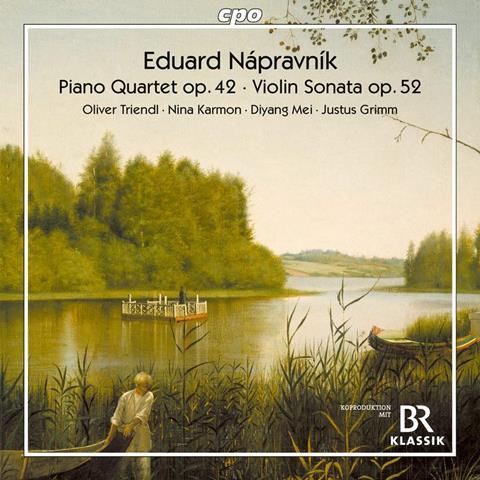 The Strad Issue: December 2022
Description: Spirited accounts of chamber music by a composer admired by Tchaikovsky
Musicians: Nina Karmon (violin) Diyang Mei (viola) Justus Grimm (cello) Oliver Triendl (piano)
Works: Nápravník: Piano Quartet op.42; Violin Sonata op.52
Catalogue number: CPO 555405-2
Eduard Nápravník (1839–1916) was central to Russia's concert life for nearly half a century, conducting innumerable symphony concerts for the Russian Imperial Music Society between 1869 and 1881, and over 4,000 performances, invariably from memory, as principal conductor of the Mariinsky Theatre. Remarkably, he also found time to compose around 200 works, mostly during the summer months when he would also be preparing for the new season.
His 1882 Piano Quartet (here receiving a world-premiere recording) is cast in the standard four movements, with the scherzo second and, typically for its period, is designed more for concert-hall impact than the intimacy of the salon, with a virtuoso piano part (Nápravník was a by all accounts a gifted player). Stylistically the quartet takes its lead from Schumann, intensified by Tchaikovskian melodic yearning, Brahmsian double sixths, and (in the scherzo) a startling premonition of Shostakovich. This fine team plays with compelling freshness allied to a grand sweep that carries the listener irresistibly along.
The Violin Sonata dates from 1890 and Tchaikovsky thought so highly of it, plans were put in place to premiere it alongside his own Souvenir de Florence string sextet. And little wonder, as this time around the music has a more Russian cosmopolitan feel, but with the piano again taking the lead. If Lana Trotovšek and Ludmil Angelov (on Toccata Classics, the first release in a series of Nápravník's complete chamber music) tend towards a more trenchant, darker sonority, Nina Karmon and Oliver Triendl play with a lighter touch and real sense of flow, matched by the ambient clarity and textural transparency of CPO's sonics.
JULIAN HAYLOCK