Labor shakes off the Brahmsian dust in late Romantic rarities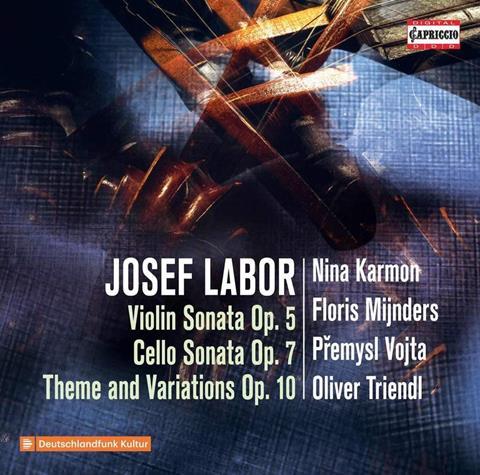 The Strad Issue: August 2021
Description: Labor shakes off the Brahmsian dust in late Romantic rarities
Musicians: Nina Karmon (violin) Floris Mijnders (cello) Přemysl Vojta (horn) Oliver Triendl (piano)
Works: Labor: Violin Sonata no.1 op.5; Cello Sonata no.1 op.7; Theme and Variations op.10
Catalogue number: CAPRICCIO C5430
Beyond perhaps his words of praise for the young and self-taught Schoenberg, and his patient tuition of the teenage Alma Schindler, what did any of us know about Josef Labor (1842–1924)? Listened to blind – not an option for Labor, sightless from the age of three – the easy-going melody to launch his A major Cello Sonata of 1895 should transport most listeners to fin-de-siècle Vienna, and to the professional-standard amateur salons where everyone from bank clerks to princes made their fun.
If this isn't grateful music to play, Floris Mijnders makes it seem so, enjoying without indulging the C-string communing of the brief Quasi andante (placed third after an elfin, Mendelssohnian scherzo) and skipping through the finale's whirl of semiquavers, where he is sensitively partnered and balanced with Oliver Triendl's piano.
Nina Karmon is more reticent – or placed further back – in the D minor Violin Sonata (1891) and I can imagine a more passionately yielding and soaring account of the Adagio (placed second this time) which finds Labor at his most Brahmsian. The imitation is so accomplished, the stylistic emulation achieved with so light a hand, that questions of originality seem beside the point, as they do in the achingly nostalgic horn writing of the (original) Theme and Variations. Anyone already familiar with this ensemble's recent album of the more imposing Piano Quartet and Quintet will snap this up. Everyone else, and in particular seekers of late Romantic rarities, has a treat in store.
PETER QUANTRILL