Championing three women composers from the 19th and 20th centuries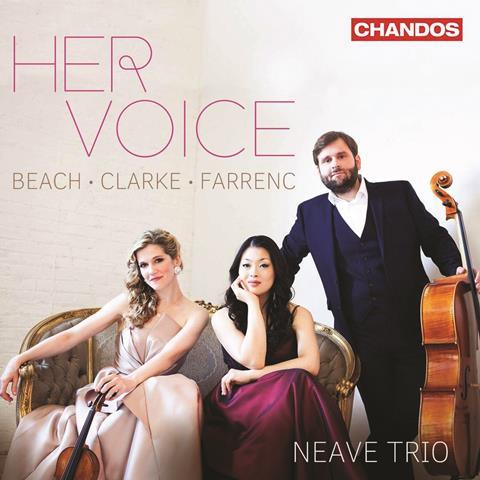 The Strad Issue: December 2019
Description: Championing three women composers from the 19th and 20th centuries
Musicians: Neave Trio
Works: FARRENC Piano Trio no.1 op.33 BEACH Trio op.150 CLARKE Trio
Catalogue Number: CHANDOS CHAN 20139
The Neave Trio champions the voices of three thoroughly deserving composers on the disc Her Voice: Amy Beach, Rebecca Clarke and – least familiar to me – 19th-century Louise Farrenc, who was a professor of piano at the Paris Conservatoire. Her trio opens the disc, crackling with energy and joie de vivre, and in the capable hands of the Neave players Farrenc's poised and elegant writing shimmers.
Amy Beach's 1938 Trio, written when the American composer was in her seventies, gets an equally powerful reading. The dreamy cello melody of the opening Allegro – luxuriantly played by Mikhail Veselov – blooms into tender interplay between the strings. Violinist Anna Williams echoes Veselov's delicate touch, underpinned by eminently sensitive pianism from Eri Nakamura. It's a finely etched and persuasive performance, from the chromatic romancing of the middle movement Lento to the Allegro con brio, with its syncopated shades of an Inuit melody.
A dramatic finale comes in the shape of British-born Rebecca Clarke's remarkable Trio of 1921. The tone is set from its first astringent chords, and the Neave players delight in Clarke's desolate, post-Romantic melodies, thrilling to her extremes of light and shade. Recorded sound is dynamic and vivid.
CATHERINE NELSON