Composer's youthful works receive precise and unmannered performances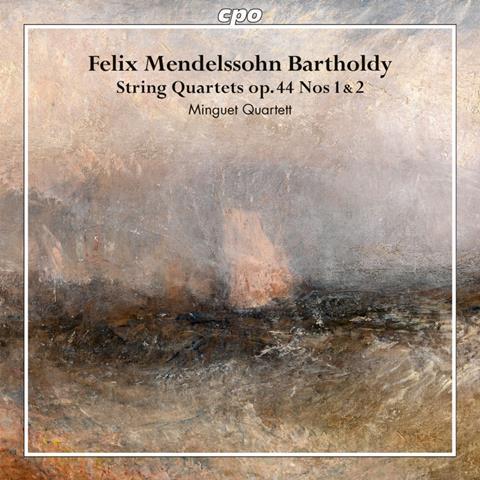 The Strad Issue: August 2021
Description: Composer's youthful works receive precise and unmannered performances
Musicians: Minguet Quartet
Works: Mendelssohn: String quartets op.44: nos.1 & 2
Catalogue number: CPO 555 086-2
The Minguets have spun out their Mendelssohn cycle from three albums to four by expediently including the teenage unnumbered E flat major Quartet and the op.81 Pieces on the first volume, along with a scrupulously articulated and unmannered account of op.80 that gave notice of the virtues to be enjoyed on this latest instalment.
With op.44 no.1 in D major we join Mendelssohn on honeymoon, more relaxed in his compositional skin than either his ostentatiously effortless teenage emulations of Mozart and Beethoven, or his neurotically driven late masterpieces. The church acoustic places the Minguets at a little distance: good for the soft glow of the Minuet, the neoclassical nostalgia of the Andante and the finale's quasi-orchestral brilliance, less helpful for the closely worked argument of the first movements in both quartets.
There is more detail to the tugging syncopations in the Henschel Quartet's version of the E minor Quartet op.44 no.2, and greater expressive breadth to the Eroica Quartet's beautifully nuanced recording. All the same, I warm to the Minguet's close-woven, even-textured and pulse-led account, which respects what we understand of Mendelssohn's attitudes to his Classical forebears and by extension to the principles underlying his own music, in which passions may run all the deeper when contained within a formal framework. He was a stickler for intonation, and the Minguets wisely prize absolute precision over headlong momentum in the chatter of the Scherzo. Too cool for some, perhaps, but this is Mendelssohn to reckon with.
PETER QUANTRILL