Clarity and theatrical bite combine to make a deeply rewarding disc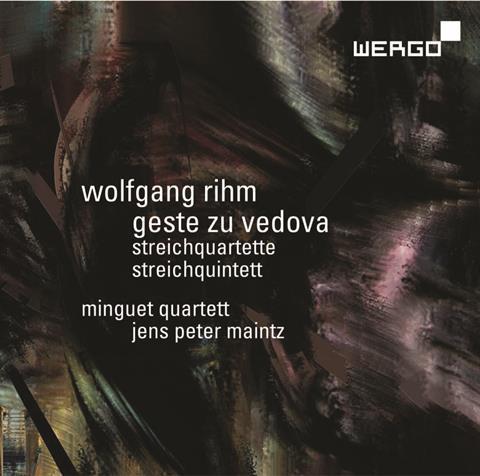 The Strad Issue: January 2018
Description: Clarity and theatrical bite combine to make a deeply rewarding disc
Musicians: Minguet Quartet, Jens Peter Maintz (cello)
Works: RIHM Geste zu Vedova; String Quartet in G minor; String Quartet (1968); Epilog for String Quintet
Catalogue Number: WERGO WER 7346 2
Works from opposite extremes of contemporary Germany composer Wolfgang Rihm's career make for a provocative but illuminating pairing on this deeply rewarding disc. His String Quartet in G minor and String Quartet (1968) are teenage works (written – remarkably – when he was 14 and 16 respectively), while his Geste zu Vedova and Epilog are among his most recent pieces.
What the disc demonstrates, however, is that an inescapable need to express and ruminate on ideas, which often pushes his material to unsettling extremes, has been there since Rihm's very earliest compositions. And his compatriots in the Minguet Quartet positively relish his extensive demands: these are fiercely intense performances, bristling with conviction, that slice through the music with all the ruthless clarity of a razor blade.
The Minguet players chart the shifting moods of Rihm's one-movement Quartet in G minor magnificently, and seem entirely at ease within its effusive mix of tonality, polytonality and atonality. They're crisp and bright, even at times thrillingly aggressive, in the Bartókian Quartet from 1968, in a performance almost as theatrical as the music is over-the-top.
Rihm wrote his 2015 Geste zu Vedova for the Minguets. It's a demanding work, uncompromising but thoroughly approachable, that begins on a level of screaming intensity and just cranks things up from there, but the players are utterly convincing in their fearsome focus. Best of all is the Epilog, written in 2013 as an afterword to Schubert's String Quintet, and for which the Minguet is joined by cellist Jens Peter Maintz. There's a subtle deployment of extended string techniques, and the players chart the work's slowly evolving textures expertly. It's a remarkable, compelling disc, captured in rich, crystal-clear sound.
DAVID KETTLE