The Minguet Quartet began playing together as students in 1988, and the original line-up are still going strong 30 years later. Here's how they do it.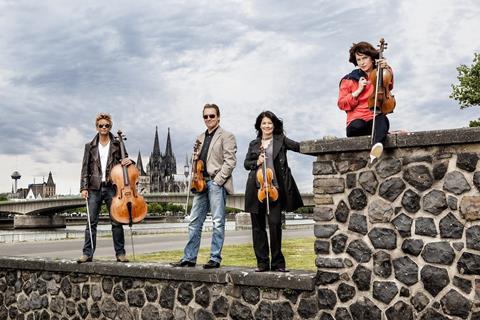 1. Play to each other's strengths by delegating roles and responsibilities
Beyond our instruments, each member of the quartet has their own strengths and weaknesses. It's important to learn to share out tasks to avoid potential disagreements and to make sure everyone has an equal contribution to the quartet. If one person does everything, it can lead to burn out and resentment.
Annette (violin) is great at production and marketing while Ulrich (violin) takes care of the scores and individual parts, acting as the librarian. Aroa (viola) and Matthias (cello) are extremely good at finding new contacts and performance opportunities, and talking with the composers.
2. Take time to find your sound as a group
Many young performers fall into the same trap of listening to other people's performances and copying what they do to speed up the process and avoid criticism. Part of the fun and enjoyment of being part of a string quartet is finding your own sound and interpretations as a group. The world doesn't need another string quartet playing the same pieces the same way – it needs new and refreshing voices.
3. Go through the score together before practising individually
With every piece that we play, we make sure to go through the score for the first time as a group. We talk about fingerings, articulation, dynamics and, most importantly, the moments of tension and release throughout the piece.
4. Switch off your phone to switch on your brain
Plenty of practice is important, but make sure you take breaks in between. We begin by rehearsing for two hours early in the morning, then take a break to allow our brains to process our thoughts and rejuvenate. We repeat this three more times in the day as any more than this will reduce concentration and performance.
We always switch off digital devices while rehearsing – they will only distract you! We don't even record ourselves during rehearsal – this way, we are more motivated to listen to each other carefully and give feedback.
5. Never stop listening to each other
On the subject of listening to one another, it's really important to stay attuned. No matter how long you have been playing together; no matter how many hours you have practised; no matter how many times you have performed a piece before, not everything always goes to plan.
You should enjoy the sound you make as a group while performing, but it's important to listen to your fellow players and react well to anything that doesn't go as planned.
6. Spend time on your relationship with each other, as friends as well as a quartet
The relationship you have as a string quartet is just the same as any other relationship, with the added complication of working together! It's always good to take the time to get to know each other outside of the context of a string ensemble, but also make time for yourselves.
Always make sure that any disagreements are sorted diplomatically before you leave the practice room.
7. If they don't want to pay you, they do not value you
Payment can be an uncomfortable subject to broach for the first time, but it's an important part of making sure you are being taken seriously as musicians. Ever since we started playing as a quartet we have had a written contract on conditions and fees. We ask for the signed contract to be returned months in advance, and are always paid at the end of the performance.
The Minguet Quartet will be performing at the Southbank Centre in London on 17 May 2019. The concert will include the world premiere of Roberto David Rusconi's Variazioni Tiepolo, as well as Beethoven and Haydn string quartets. Click here for tickets and more information