Young Dutch violinists create a very lively duo recital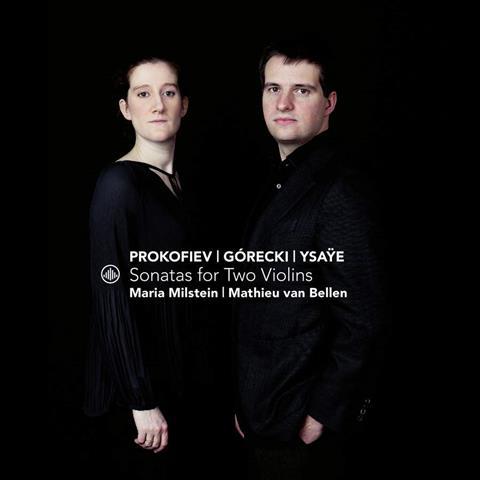 The Strad Issue: May 2020
Description: Young Dutch violinists create a very lively duo recital
Musicians: Maria Milstein, Mathieu van Bellen (violins)
Works: Górecki: Sonata for two violins op.10. Prokofiev: Sonata for two violins op.56. Ysaÿe: Sonata for two violins
Catalogue Number: CHALLENGE CLASSICS CC72807
This is a very classy disc of music for two violins, in a lively but not too resonant acoustic, played by young musicians from Russia and the Netherlands who have both studied in England, Holland and Belgium. Maria Milstein performs on a Michele Angelo Bergonzi, Mathieu van Bellen a G.B. Guadagnini.
In slow–fast–slow–fast form, Prokofiev's 1932 Sonata finds him on the cusp of changing from enfant terrible to mellow middle age: the Allegro juxtaposes both moods. Milstein plays first in a fine performance that flowers especially in the beautiful third movement, marked Commodo.
Van Bellen plays first in the other two sonatas. A student work, Górecki's testing 1957 piece deploys such techniques as glissando, pizzicato and harmonics. It starts in lively, folky style but at 1'23" suddenly becomes very profound for some time before the upbeat style returns. The middle movement is meditative, the finale explores dance rhythms, including an ironic waltz.
Ysaÿe's 1915 Sonata would have tested the Queen of the Belgians, its dedicatee. It has grown on me over the years and this performance, the most expansive I have heard, realises all its beauties, ranging through serenity, drama, complexity, chromaticism and a modal quality almost like Vaughan Williams.
TULLY POTTER