Double bass takes centre stage in delightful solo album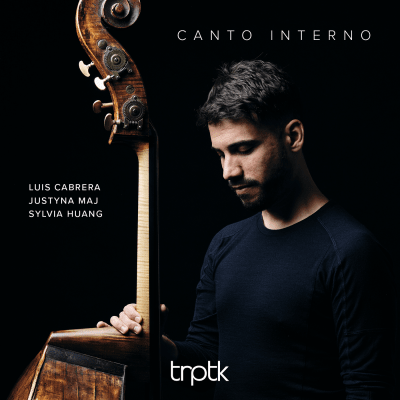 The Strad Issue: August 2021
Description: Double bass takes centre stage in delightful solo album
Musicians: Luis Cabrera (double bass) Sylvia Huang (violin) Justyna Maj (piano)
Works: Bottesini: Introduction and Variations on Carnival of Venice. Koussevitzky: Four Pieces for double bass and piano. Schumann: Fantasiestücke op.73. Franck: Violin Sonata
Catalogue number: TRPTK TTK 0072
Once upon a time the double bass was viewed as little more than an instrument to provide an extension to orchestral string bass-lines. Things have changed dramatically in recent years, as can be judged by the quality of Netherlands Philharmonic principal bassist Luis Cabrera's highly accomplished playing on this, his debut disc as a soloist. In his introductory notes Cabrera describes the album's title as encapsulating 'the space where we can hear and feel music in its purest state', and few would argue after experiencing his effortless virtuosity and spotless intonation in this wide-ranging bass recital.
Whether in virtuoso showstoppers by Giovanni Bottesini (including the Gran Duo Concertante in the version for bass and violin with Sylvia Huang on dazzling form), Serge Koussevitzky's sublime early miniatures, Robert Schumann's poetically infused op.73 Fantasiestücke or César Franck's sensually voluptuous Violin Sonata, Cabrera (playing an instrument by Carlo Ferdinando Landolfi) emerges musically and technically completely unscathed.
The latter pieces feature fully fleshed-out piano parts, played here with infectious abandonment and gusto by Justyna Maj, which might potentially overbalance the relatively discreet voice of the double bass. It is to Cabrera's credit (as well as that of the sound team, Brendon Heinst and Ben van Leliveld) that he elects to segue in and out of the piano textures rather than attempt to dominate the proceedings by artificial spotlighting. Those used to a heavily projected top line in this music might miss the usual sense of sonic one-upmanship, yet played like this the music's poetic intensity becomes, if anything, unexpectedly enhanced.
JULIAN HAYLOCK