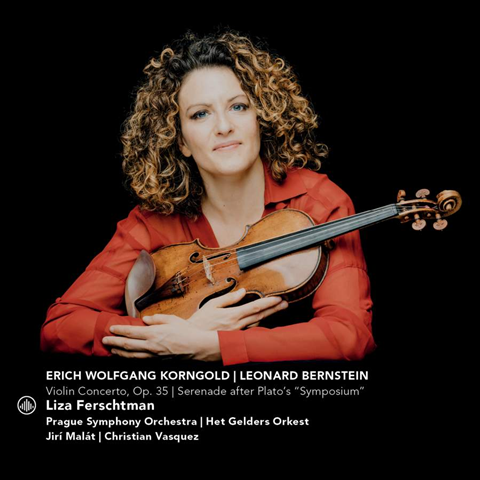 The Strad Issue: May 2018
Description: Appealing spice makes a welcome addition to this sweet-toothed concerto
Musicians: Liza Ferschtman (violin), Prague Symphony Orchestra/Jiří Malát, Christian Vásquez
Works: KORNGOLD Violin Concerto, BERNSTEIN Serenade after Plato's 'Symposium'
Catalogue Number: Challenge Classics CC72755
Completed in 1945, Korngold's Violin Concerto marked the Austrian composer's return to writing concert works after a decade's work as a film composer, and the work itself is peppered with fragments of his film scores. It's an unashamed feast of late Romanticism, but in this live recording Dutch violinist Liza Ferschtman sets on Korngold's score with spontaneity and abandon, and manages to avoid making its impassioned melodies too sugar-laden. With lithe virtuosity she describes just the right amount of light and shade, particularly in the richly imploring opening of the second-movement Romanze.
The Prague Symphony Orchestra, in the capable hands of Jiří Malát, gives delicately etched support, and the orchestral strings echo Ferschtman's restraint in never sounding too syrupy – aided by the vivid colours of the recorded sound.More passion abounds in Bernstein's five-movement Serenade after Plato's 'Symposium', written in 1954, which takes inspiration from the philosopher's celebrated dialogue on the nature of love.
Here again, Ferschtman takes a subtly shaded approach, the brilliance and energy of her performance thoroughly compelling. The moments when the texture clears and the solo violin emerges alone are particularly entrancing, and Ferschtman's artistry and flair never falter.
CATHERINE NELSON