Tim Homfray watches the performance at London's Wigmore Hall from the comfort of his own home on 14 April 2021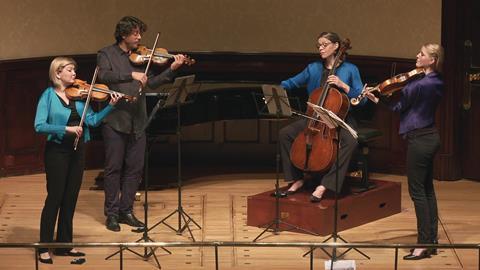 There was drama before this concert even started, as Hélène Clémont, violist with the Doric Quartet, raced to Wigmore Hall on her motorbike to replace Emilie Hörnlund, who couldn't make it. Needless to say, it didn't show. They opened with Haydn's 'Bird' Quartet op.33 no.3, played with expressive freedom of dynamics, an easy rubato, pointed acciaccaturas and occasionally impish humour. After the rich sotto voce of the Scherzando allegretto, first violinist Alina Ibragimova trilled her way splendidly through the trio as her fellow violinist Pablo Hernán Benedi pecked away below. There was warm legato playing in the Adagio before the exhilarating finale, dancing staccato semiquavers clipped and precise as it dashed along.
Their performance of Schubert's A minor Quartet D804 was marked by vivid contrasts. Passages of the first movement, not least the opening, were hushed and caressed, as if infinitely precious and delicate, giving way to fierce, driven playing. Ibragimova lovingly shaped the theme of the Andante, which proceeded with poise and gentle majesty. Close observance of Schubert's accents brought little stings to the Menuetto, played with autumnal warmth of tone, and gave sometimes asymmetrical impetus to the finale.
TIM HOMFRAY