Exploring the musical roots of the nascent European string quartet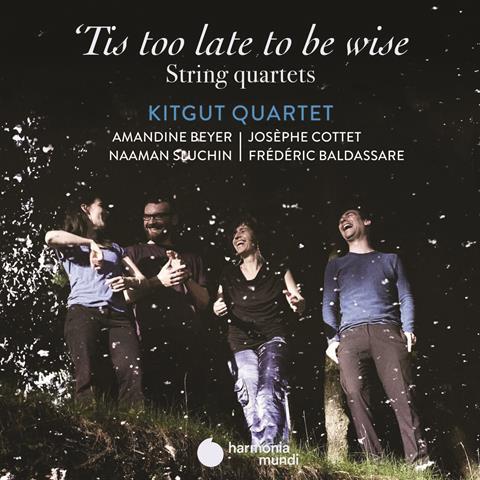 THE STRAD RECOMMENDS
The Strad Issue: April 2020
Description: Exploring the musical roots of the nascent European string quartet
Musicians: Kitgut Quartet
Works: Purcell: Chacony; Fantazias; Fairest Isle (King Arthur). Locke: Suite no.2 in D major, Curtain Tunes from Timon of Athens and The Tempest. Haydn: String Quartet in D major op.71 no.2. Blow: Venus and Adonis: Act II Act Tune
Catalogue Number: HARMONIA MUNDI HMM 902313
The period-instrument Kitgut Quartet's first recording project aims to examine the origins of the string quartet in Europe. The spotlight falls here on England, combining accounts of late 17th-century consort, theatrical and other instrumental music with, somewhat anachronistically, Haydn's op.71 no.2, composed in 1793 for the concert hall rather than the chamber.
Firmly focused in a warm but not excessively reverberant acoustic, these performers admirably capture the spirit and detail of Purcell's music, revelling in the mix of poignancy, introspection, chromaticism, abstruse counterpoint and animated dance of Fantazias nos.2 and 8, playing the solemn Pavan with spontaneity and dispatching two extracts from King Arthur with tasteful textural variation and finesse. Rather than in its customary expansive guise, they interpret Purcell's Chacony more appropriately as a brisk dance, incorporating some stylish rhythmic inequality. Their account of Locke's Suite no.2 is equally well characterised; but their interpretation of Haydn's op.71 no.2 steals the show for its freshness, unanimity of purpose and wide range of colour and expression.
Leader Amandine Beyer is equal to all the technical challenges of its vivacious, energetic outer movements and she is supported unstintingly by her colleagues' sensitive interaction, especially in the lyrical slow movement and unusually slithery Trio.
ROBIN STOWELL