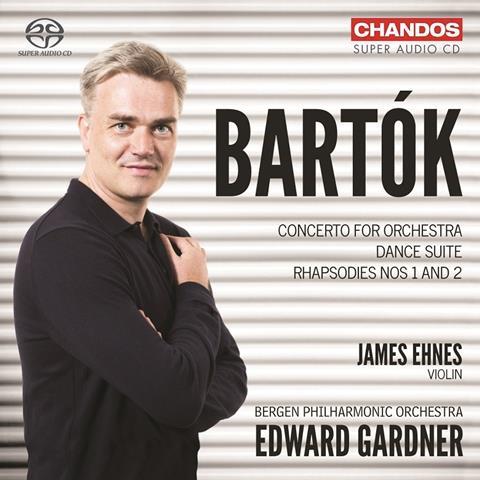 The Strad Issue: January 2018
Description: Fiercely good Bartók from Ehnes and Gardner
Musicians: James Ehnes (violin), Bergen Philharmonic Orchestra/Edward Gardner
Works: BARTÓK Rhapsodies; Concerto for Orchestra; Dance Suite
Catalogue Number: CHANDOS CHSA 5189
James Ehnes was praised for his 'sensual phrasing and rich, glowing tone' when he recorded Bartók's two violin concertos for Chandos with the Viola Concerto thrown in for good measure (reviewed January 2011). In the composer's two Rhapsodies we miss the last ounce of legato and that vintage sense of seduction that his illustrious forebears might have brought to the pieces (presumably in plenteous supply from Joseph Szigeti, for whom the First Rhapsody was written). But Ehnes channels his inner gypsy, enjoying the lower reaches of his 1715 'Marsick' Stradivari and demonstrating more subtle idiomatic credentials in the rhythmic sleight of hand that opens the Second Rhapsody.
The disc contains an alternative, slightly less muddy-booted ending to the First Rhapsody but the notes don't explain its provenance. More generally, the recording is scintillating. Bartók's Concerto for Orchestra and Dance Suite are delivered on the front foot and in a recorded sound whose presence harks back to the good old days. Gardner has this traditionally well-behaved orchestra fizzing with attitude and brazen ferocity, but there is hard-earned character too, not least in the swarming string passages of the Concerto for Orchestra's first scherzo and the comparative warmth of the movement that follows.
ANDREW MELLOR