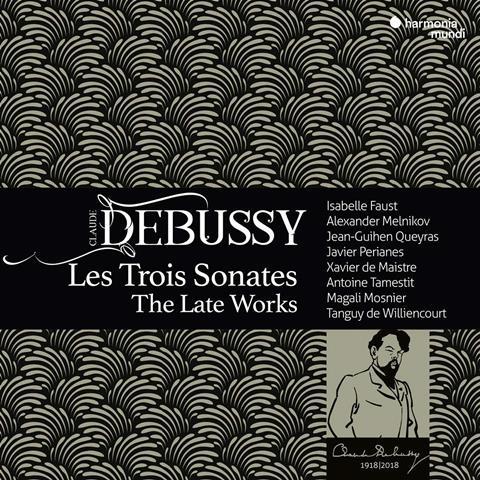 THE STRAD RECOMMENDS
The Strad Issue: December 2018
Description: A collection of late Debussy that truly saves the best for last
Musicians: Isabelle Faust (violin), Antoine Tamestit (viola), Jean-Guihen Queyras (cello), Alexander Melnikov (piano), Tanguy de Williencourt (piano), Magali Mosnier (flute), Xavier de Maistre (harp), Javier Perianes (piano)
Works: DEBUSSY Violin Sonata in G minor; Cello Sonata; Sonata for flute, viola and harp in F major; Berceuse héroïque; Pièce pour le Vêtement du blessé; Élégie; Les Soirs illuminés par l'ardeur du charbon
Catalogue Number: HARMONIA MUNDI HMM 902303
This past Debussy centenary year has hardly been short of top-drawer new recordings of the late sonatas. Still, the latest addition to Harmonia Mundi's already much-lauded Debussy series is unquestionably the most musically instinctive and subtly ravishing set of interpretations I've heard, either from this year or further back.
While we're used to Isabelle Faust wearing exceptional technique and interpretative passion lightly, in the Violin Sonata her c.1704 Stradivari appears almost supernaturally as a capricious and vulnerable talking entity. Plus, she hasn't achieved this by playing fast and loose with the markings, but by following them to the letter.
I don't think I've ever heard the Allegro vivo's quavers from bar nine onwards played with such metric clarity, or the timbre of those slurred staccato quavers at bar 88 sounding so clearly 'sur la touche' cloaked.
Alexander Melnikov fits around her like a kid glove. Onwards, and a Sonata for flute, viola and harp of softly bristling textures, Mosnier, Tamestit and de Maistre revelling in each other's differences while equally finding common ground (and de Maistre's 19th-century Érard harp borrowed from Les Siècles is a beauty).
Finally, an exquisitely spacious and lovingly rendered Cello Sonata with Jean-Guihen Queyras silkily and nimbly waxing, waning, ducking and diving, with magical upper-register sonority. Add piano interludes that smoothly unite everything into a programme to be savoured as an end-to-end listen, and you should forget all the other late sonata recordings you've heard this year. This is the keeper I cannot imagine anyone ever topping.
CHARLOTTE GARDNER