Gripping and beautifully played duos that demand committed listening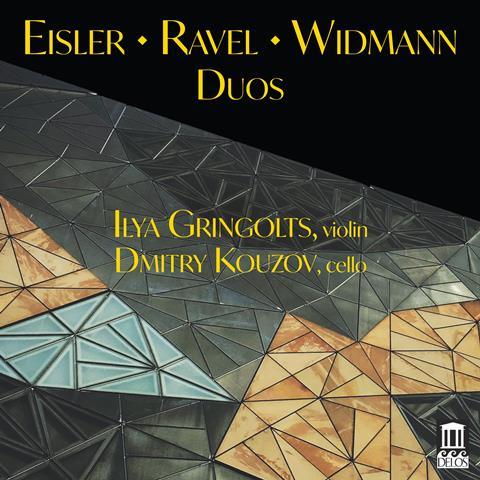 The Strad Issue: January 2020
Description: Gripping and beautifully played duos that demand committed listening
Musicians: Ilya Gringolts (violin) Dmitry Kouzov (cello)
Works: Eisler: Duo for violin and cello op.7. Widmann: 24 Duos for violin and cello. Ravel: Sonata for violin and cello
Catalogue Number: DELOS DE 3556
Look elsewhere if you're expecting crowd-pleasers, but what this disc does offer is bold and hugely committed performances of three very striking duos spanning almost 90 years.
Eisler wrote his Duo in 1924, the year after completing his studies with Schoenberg, and the latter's influence is clear in the finely wrought serial counterpoint and the short motifs. Gringolts and Kouzov are as one in shaping the gestures and in pacing the movement; the intensity of their playing at times suggests a pre-echo of Expressionism.
With their concern for abstraction and closely interweaving lines, Widmann's 24 Duos (2008) form a perfect complement. The players make the most of the slow, suspended creep and fragile dissonances in no.3 (Lento un poco Andante); the claustrophobic interplay around a narrow, shared pitch range (no.7); and of the breathtaking, eight-bar Calmo (no.9), which glows rather than 'sounds'. There's soul-crushing note-bending and decay in the Lament (no.24) but exuberant humour, by contrast, in the Valse bavaroise (no.21) and the concluding Toccatina all'inglese.
Ravel's Sonata (1920–22) is mined for all its austere, intrinsic beauty, and that includes the macabre second movement. Again, counterpoint is king, and again the interplay between Gringolts and Kouzov is magnetic. The lively sound of this studio recording is another beguiling touch.
EDWARD BHESANIA