Emotionalism allied to full tone compel in this Russian odyssey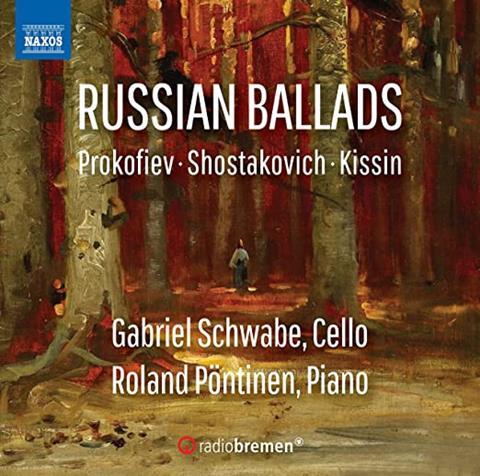 The Strad Issue: November 2022
Description: Emotionalism allied to full tone compel in this Russian odyssey
Musicians: Gabriel Schwabe (cello) Roland Pöntinen (piano)
Works: Works by Kissin, Prokofiev and Shostakovich
Catalogue number: NAXOS 8.574377
Gabriel Schwabe has been an exclusive Naxos artist since 2015 and can boast fine recordings of the Schumann (conducted by the late Lars Vogt), Elgar and both Saint-Saëns cello concertos. The emotional directness of the Russian repertoire here is especially well-suited to Schwabe's lithe, open sound, which projects through piano textures without any sense of strain. No less characteristic is his use of the bowing arm to articulate subtle changes in tonal colour and intensity.
He captures the Russian melancholy that lies at the heart of the Shostakovich sonata, as well as its soulful cantabile. Even the driving string-crossings of the second-movement scherzo emerge in full-toned phrases, rather than the more usual high-pressure assault.
Schwabe responds to Prokofiev's very different sound world with an athletically buoyant sound akin to a tenor violin, matched by Roland Pöntinen's highly articulate negotiation of the tricky piano part. The sonata flows engagingly, with musical events appearing to merge naturally rather than being set on a collision course; even the early op.15 Ballade emerges as a cohesive structure.
Schwabe and Pöntinen's unvarnished intensity also proves a perfect fit for the dark imaginings and yearning introspection of Evgeny Kissin's single-movement sonata.
JULIAN HAYLOCK