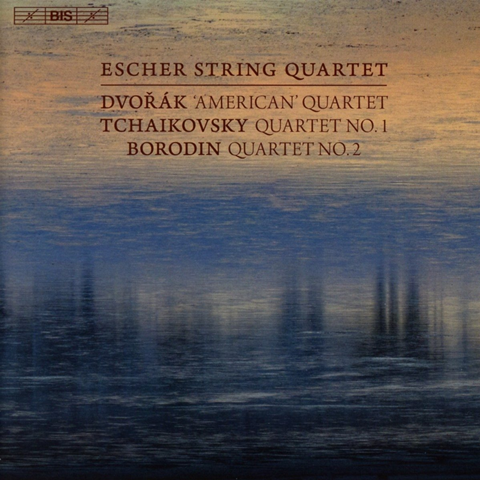 The Strad Issue: April 2018
Description: The Escher successfully captures the ebb and flow of three Romantic quartets
Musicians: Escher Quartet
Works: DVOŘÁK String Quartet no.12 in F major op.96 'American'; BORODIN String Quartet no.2 in D major; TCHAIKOVSKY String Quartet no.1 in D major op.11 Catalogue Number: BIS 2280 (SACD)
The Escher Quartet launches into Dvořák's 'American' Quartet with forthright playing in primary colours, crisp rhythms and close attention to the composer's many fz markings and accents. They deserve a black mark for slowing down substantially for the A major theme where Dvořák specifically tells them not to, but goodness knows they're not alone in this. The inner parts of the slow movement have a beautiful lilt, and the melodic playing of first violin and cello (Adam Barnett-Hart and Brook Speltz) is wonderful. The dynamic contrasts in the third movement are spectacular, and the finale clips joyfully along.
There is neurotic energy in the first movement of Tchaikovsky's D major Quartet and the requisite soulful playing in the Andante cantabile, which is gently caressed. The scherzo is fierce and hard-edged, followed by a jubilant finale. The opening movement of Borodin's Second Quartet has a beguiling, easy flow, with a flexible pulse (perhaps a little too flexible sometimes – the recapitulation begins more andante than allegro moderato). After the elfin opening of the scherzo the second theme is gorgeous. Cellist and leader sing the melodies of the notturno with autumnal warmth and silvery clarity respectively, and the finale fairly sprints.
This is a very fine CD, on which the rich sound of the quartet is aided by a generous acoustic.
TIM HOMFRAY