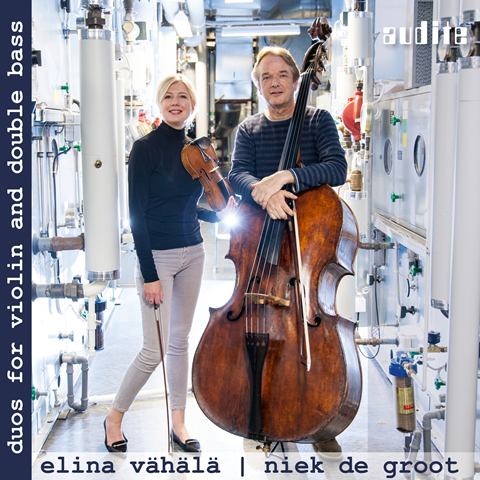 The Strad Issue: May 2018
Description: Making a case for the acrobatic abilities of the double bass
Musicians: Elina Vähälä (violin), Niek de Groot (double bass)
Works: Music By Penderecki, Yun, Kuusisto, Tüür, Huber, Kurtág and Rihm
Catalogue Number: AUDITE 97.732
With each of his recordings, Dutch double bassist Niek de Groot continues to make the extremely persuasive argument that there simply isn't anything that his instrument cannot do. He is joined by the formidable Finnish violinist Elina Vähälä for an album of astonishingly varied compositions for this most unlikely of pairings.
Each of the composers chosen here wisely resisted the temptation simply to exploit the obvious contrasts between the violin and bass. Instead, there is a multitude of fascinating approaches to the question of how to make these diverse sounds blend together. Krzysztof Penderecki's surprisingly accessible Duo concertante employs the full spectrum of technical and percussive fireworks without resorting to low rumbling or high-pitched harmonics for their own sake.
Korean composer Isang Yun's Together meanwhile explores the yin and yang principles through a constant exchange of motifs that explore the extremes of range and dynamics. Beginning with pulsing of open strings and stacked 4ths, Finnish violin virtuoso Jaakko Kuusisto's Miniö has a more open-ended, warm and improvisatory feel than Alfred Huber's (Re)Actio, which can feel overly academic in its exploration of war. With such an admirable breadth of styles being explored, there are inevitable dips in quality, though Groot and Vähälä are never less than attentive and eloquent in their approach. The best is left till last with Wolfgang Rihm's Dyade which, in its evocation of myriad moments of harmony and conflict, has a sophistication worthy of the best musical dialogues.
TOM SHORT