An auspicious start to what might become a complete Haydn cycle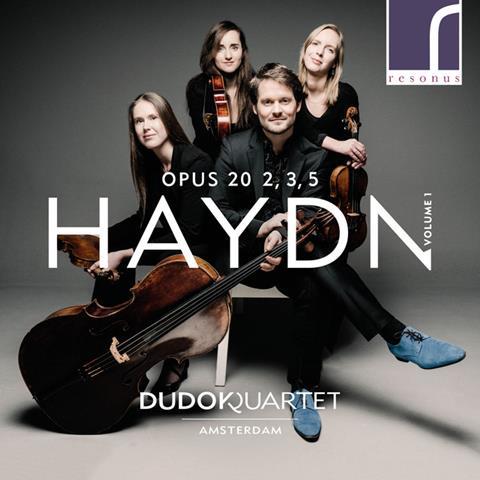 The Strad Issue: January 2020
Description: An auspicious start to what might become a complete Haydn cycle
Musicians: Dudok Quartet Amsterdam
Works: Haydn: String Quartets op.20: no.2 in C major, no.3 in G minor, no.5 in F minor
Catalogue Number: RESONUS RES10248
The Dudok Quartet has already recorded Haydn – op.54 no.2 on a highly acclaimed disc called Métamorphoses (reviewed November 2015). This promises to be the first of two discs exploring the innovative op.20 Quartets and, who knows, perhaps a whole cycle as the years go by. It's certainly an auspicious start.
The recital opens with the Third Quartet in G minor – wisely, as this is the most outgoing of the three presented here. At once the Dudok impresses with its responsiveness to gesture, not playing games with tempo but allowing the pulse to yield gently as the four-way conversation develops. This is followed by the earthy richness of C major and then the remarkable F minor; and here the decisions made in recording these works are integral to the effect of the disc. Microphones are drawn back slightly to eavesdrop rather than to focus; the listener is placed at a good distance to overhear the discourse rather than to be seated within it.
The result is to remind us that this is chamber music for friends, not concert music for an audience. The finale of the Second Quartet (the Fuga a 4 soggetti) scampers like children told to play together quietly – although these children are well versed in Haydn's counterpoint, which even in these works of the early 1770s is of an airborne feather-lightness, both of touch and of spirit, that surpasses even Mozart. Then the finale of the Fifth Quartet (the Fuga a 2 soggetti) is confided as if to a confessor. Throughout the disc the listener is drawn in closer as the stories become more personal: Haydn's F minor is the saddest, most heartbreaking of all his chosen tonalities. All is played with true assurance and understanding; and this ensemble's care for structure is worthy of its architect namesake.
DAVID THREASHER