Carlos María Solare hears a performance at the Berlin Philharmonie on 23 September 2020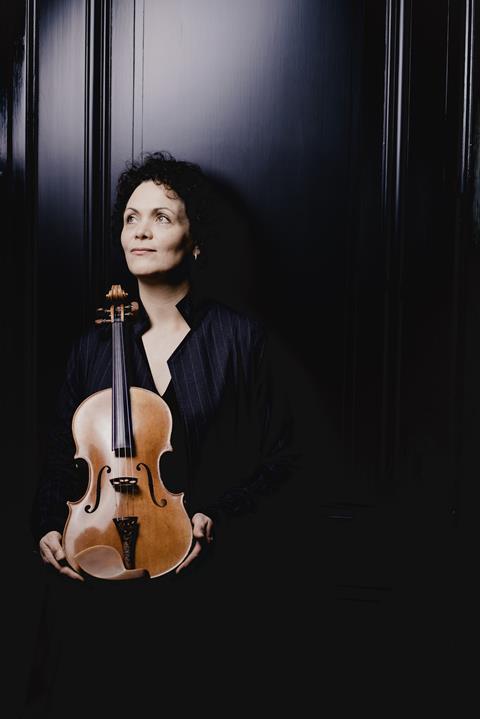 Tabea Zimmermann (Viola) Christian Gerhaher (Baritone) Members Of The Berlin Philharmonic/Stanley Dodds
Philharmonie 23 September 2020
This year's edition of Musikfest Berlin ended with a concert devoted to the music of Wolfgang Rihm, which included the world premiere of his Stabat Mater for baritone and viola. Dedicated to its first interpreters, this piece was jointly commissioned by the festival and the Foundation Berliner Philharmoniker. The concert marked Tabea Zimmermann's first appearance as the orchestra's artist-in-residence, and indeed was her first public performance after a seven-month, lockdown-enforced break. Rihm has set the 13th-century poem – describing Mary's sorrow at the death of Jesus – as a contemplative monologue that closely follows the text's intensely fraught imagery, all the while accompanied by the viola's own soliloquy.
The composer of two concertos and a piece for viola ensemble, Rihm is no stranger to writing for the instrument. The viola sets the scene of Stabat Mater with sustained, archaic-sounding double-stops, coloured by Zimmermann as if to suggest a medieval rebec. Alert to the music's many illustrative moments, her viola audibly sobbed high on the C string when the poet begs to be allowed to weep at Mary's side. The poem's verses are punctuated by instrumental interludes of varying length which were forcefully characterised by Zimmermann, who made light of the continuous, unconventional double-stopping with sonorous tone and ringing harmonics. In Christian Gerhaher she had a fellow master colourist, who employed a variety of vibrato to rival the most sophisticated string players, while shifting seamlessly in and out of head voice to accommodate the piece's wide range.
The concert was bookended by two compositions for large chamber ensemble, Sphäre nach Studie (1993/2002) and Male über Male 2 (2000/2008), the latter featuring a literally breathtaking performance from clarinettist Jörg Widmann. Compared to the compelling conciseness of Stabat Mater, and for all the Berlin Philharmonic's eloquent advocacy, they came across as rather prolix exercises. Contrastingly, Rihm's latest piece belongs in a more concentrated 'late period' of his oeuvre.
Carlos María Solare