Tim Homfray hears the performance of Martinů, Bartók and Dvořák at London's Wigmore Hall on 1 February 2023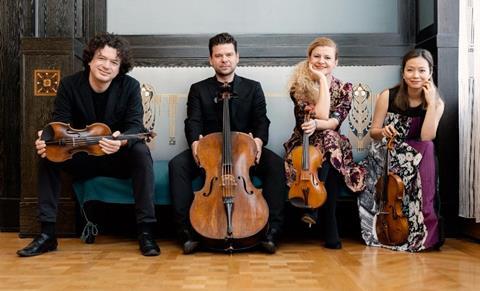 Pavel Haas Quartet, Boris Giltburg (piano)
Wigmore Hall 1 February 2023
The Pavel Haas began its concert with Martinů's Seventh Quartet, the players producing a bustling energy in the first movement, with cellist Peter Jarůśek growling effectively underneath, along with moments of slinky legato, all imbued with dramatic impetus. After the flowing lyricism of the Andante, with its gently lapping arpeggios, there was a nice exuberance to the rhythmically sparkling Allegro vivo, complete with pointed syncopations.
The opening Allegro of Bartók's Fourth Quartet was fierce but never harsh toned, switching splendidly between dynamic and dramatic extremes. The players scurried through the Prestissimo, weightless and driving. Jarůśek's opening soliloquy in the Non troppo lento was strong and spacious, and at the end he and leader Veronika Jarůšková offered a tender duet. The Allegro pizzicato was fingerboard-slapping fun, and the quartet brought tremendous rhythmic élan to the motoric writing in the final Allegro molto, given with crystalline clarity of texture.
Pianist Boris Giltburg joined the Pavel Haas for Dvořák's Second Quintet, at the beginning of which Jarůśek was again in the spotlight, playing the opening melody with full-toned beauty, after which there were strong contrasts of major and minor passages and telling use of rubato. The musicians brought out the many facets of the Andante Dumka: floating easy charm, profundity and the quiet intensity of violist Dana Zemtsov's lament. The Scherzo was effervescent and the finale light, with great lyrical shaping.
TIM HOMFRAY