Edward Bhesania hears the performance of Enescu, Poulenc, Bartok, Milhaud, Schoenfeld and Kopatchinskaja herself, at London's Queen Elizabeth Hall on 24 September 2023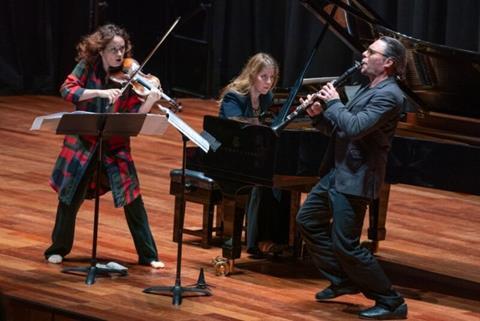 Patricia Kopatchinskaja (violin) Reto Bieri (clarinet) Polina Leschenko (piano)
Queen Elizabeth Hall 24 September 2023
It's almost a cliché now to describe Patricia Kopatchinskaja as a musical wild child, an untamed free spirit, but these qualities were front and centre here, and present in equal measure from her two accomplices.
Folk music, jazz and a whiff of music theatre infused the programme, which opened with Kopatchinskaja (barefoot as usual) rhapsodic and mercurial in the opening piece of Enescu's Impressions d'enfance. Enescu's Violin Sonata no.3 was the substantial highlight: dark, mysterious and exotic in the first movement, but even more effective in the second, with its fluttering, colouristic tones and its clangy, rattling cimbalom impressions on the piano. Both artists showed imagination unrestricted by the confines of their instruments.
Excerpts from Poulenc's music for Jean Anouilh's play L'invitation au château similarly drew in Swiss clarinettist Reto Bieri. Here, and in three of the gnomic pieces Ghiribizzi ('Whims') written by Kopatchinskaja, violinist and clarinettist combined elements of pantomime and cabaret, to the audience's delight. In Bartók's Contrasts Bieri's effortlessness reminded us of the work's co-dedicatee Benny Goodman. 'Jeu' from Milhaud's Suite united dual folk and Anouilh connections. Paul Schoenfeld's 1990 Trio, laden with references to Hasidic music, demanded the utmost virtuosity from the players, which it duly received – to thrilling effect.
EDWARD BHESANIA