Carlos María Solare attends the birthday performance at the Royal Concertgebouw, Amsterdam, on 19 March 2023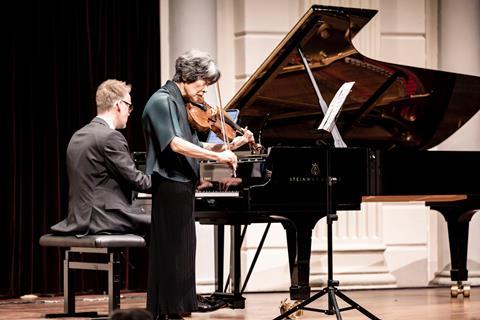 Nobuko Imai has been based in the Netherlands for most of her life, so Amsterdam's iconic concert venue seemed an appropriate venue for her 80th-birthday celebrations. The Concertgebouw's Recital Hall was packed to the rafters as several generations of Imai students gathered to pay homage. Proceedings were bookended by Handel's Arrival of the Queen of Sheba and Bach's Third Brandenburg Concerto, both pieces arranged for viola ensemble and performed by graduates from Imai's studios in Amsterdam, Detmold, Geneva, Kronberg, Madrid and Sion. Imai alumnus Sven Arne Tepl did the honours as master of ceremonies, welcoming the grande dame on stage to a heart-warming ovation. Her sagely thoughtful reading of Schumann's Märchenbilder was sympathetically supported by Martijn Willers; Imai's variety of articulation in the second movement's quasi-hunting rhythms was perfectly gauged, as were the contrasting moods of the third, the final lullaby highlighting the dark timbre of her 1690 Andrea Guarneri. In a surprise programme item, Imai returned to the stage with Mihaela Martin and Frans Helmerson (her colleagues in the Michelangelo Quartet) for a touchingly lovely performance of Schubert's one-movement String Trio.
The husband-and-wife duo of Veit Hertenstein and Peijun Xu dazzled in Lionel Tertis's outrageously virtuosic two-viola take on Handel's celebrated Passacaglia, literally finishing each other's phrases with perfectly matched colours and articulation, while Hertenstein also contributed a beautifully voiced Largo from Bach's Third Sonata. Three graduates from Imai's Geneva Conservatoire class – Tomoko Akasaka, Megumi Kasakawa and Mariko Hara – were finely attuned in Tertis's transcription of Beethoven's Trio op.87, their contrasting timbres wittily highlighting the piece's part-writing. Imai's Madrid class was represented by Wenting Kang, Luosha Fang, Hayang Park and Bella Chich in a charmingly lilting Nachtstück by Max von Weinzierl.
Tōru Takemitsu wrote A Bird came down the Walk for Imai in 1970; without quite matching his mentor's rich palette, Takehiro Konoe brought forth much tonal beauty, as did Timothy Ridout in Brahms's F minor Sonata op.120 no.1, of which his magical Andante was a highlight.
To crown the festivities, an unsuspecting Imai was presented with the International Viola Society's highest award, the Golden Alto Clef 'for exceptionally distinguished and unique contributions to the viola'. The capacity audience rose unanimously to congratulate her with a standing ovation, this reviewer happily joining in.
CARLOS MARÍA SOLARE
Photo: Foppe Schut