On 14 September 2019 Peter Quantrill saw the concert at London's Barbican Hall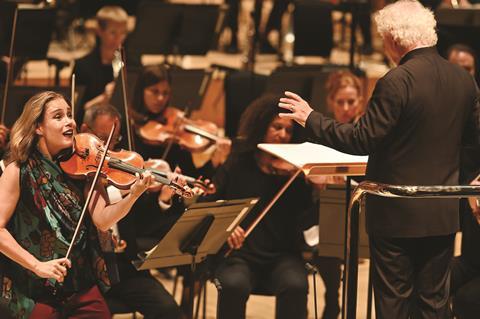 To open the LSO's season, Simon Rattle continued a recently established tradition of new and British music including revivals of works on their way to becoming modern classics. A promised violin concerto from Emily Howard had mutated into Antisphere, a volatile, 15-minute finale to a symphonic triptych (with Sphere and Torus) shaped around curves.
There followed a revival for the decade-old Violin Concerto by Colin Matthews, first conducted by the late Oliver Knussen. It was written for Leila Josefowicz, and draws on a glittering, French-accented solo-violin lexicon developed by Szymanowski and refined by Ligeti. This brand of tough lyricism plays to her strengths, and she exerted a magnetic aura in performance, firstly in a long and stratospherically pitched solo underscored by glinting wind and percussion, then descending to fire off rockets aimed at every section of the orchestra in turn. The concerto's second section discovers a measure of resolution, first in minimalist-tinted reflection – the nexus of its engagement with Sibelius – and then in more extrovert terms. Playing from memory (not common in new music), Josefowicz fused her own personality as a performer and Matthews's voice as a composer with a gripping subjectivity, and an element of risk inevitably absent from the premiere recording.
Photo: Mark Allan