Leah Hollingsworth hears an eclectic performance at New York's Crypt at the Church of the Intercession on 29 September 2022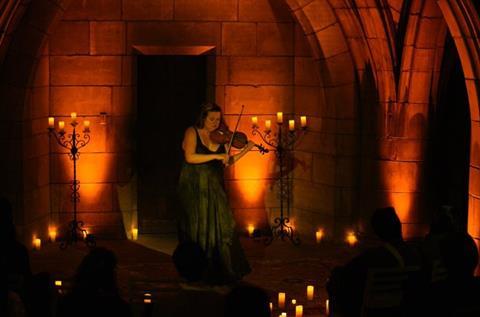 The intimacy of the concerts presented as a part of Death of Classical's series 'The Crypt Sessions' is not only unique, but also important, for it's about experiencing music as it should be heard. Although the artistic quality is invariably high, the musicians themselves are not elevated on a pedestal away from the audience – metaphorically or otherwise. Instead, the audience can hear every breath, see each bead of sweat, and is thus drawn into the artistic experience in a personal and authentic way.
This month Lara St John presented a marvellous programme of works from her recent album she / her / hers, all by women composers. While each piece shared some similarities – a plethora of double-stops, drones, pizzicatos, harmonics – St John's introduction to each helped to point out the differences and made clear the unique voice and story of each composer. Milica Paranosic's Bubamara opened the proceedings and demonstrated St John's impressively clean playing and rich, resonant sound, despite double-stopping that could have come off as aggressive or harsh. The muted double-stops of Jessica Meyer's Confronting the Sky gave way to harmonics and then a more violent middle section – but still given with purity of sound. Gabriela Lena Frank's Luciérnagas flew all over the instrument and provided rich contrast. Adah Kaplan's Whitewashed followed, a reflective piece written in response to the Black Lives Matter movement during the height of the pandemic – and by a 14-year-old!
Other highlights included Laurie Anderson's Statue of Liberty, which used Tibetan bowls, played with a gong that hung from St John's right arm and the highly virtuoso Kommós by Melissa Dunphy, whose dizzying demands St John brought off with aplomb. Sophie-Carmen Eckhardt-Gramatté's Danse marocaine successfully brought the colours, flavours and rhythms of Morocco to the crypt, while St John's stunning bow control was revealed in Ana Sokolović's Danza 2, the most playful work of the night. Jessie Montgomery's Rhapsody no.2 closed the evening perfectly.
LEAH HOLLINGSWORTH
Photo: Steven Piisano