Bruce Hodges hears the performance at Carnegie Hall, NY, on 10 April 2019

It might have been difficult to tell which members of this eager audience came for Gautier Capuçon's elegant intensity, or for Yuja Wang's fiery pianism. The reality is that the two of them combined (as part of Wang's Perspectives series for Carnegie Hall) were more than the sum of the parts, which is always happy news.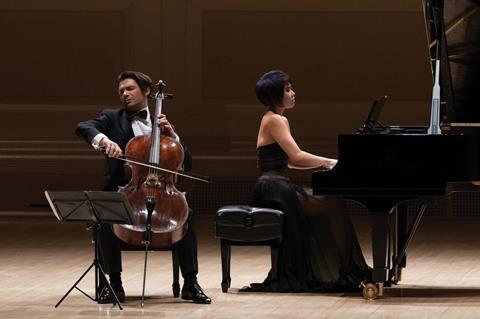 The opening of Franck's Violin Sonata in A major (in Jules Delsart's transcription) had languid repose. Capuçon's restraint was matched by his spot-on intonation – even high on the strings. In the final movement, both artists were swept away by the chase, with many listeners likely humming the unforgettable theme at the interval.
Rachmaninoff's Cello Sonata op.19 made a study in contrasts. In the second movement, Capuçon gave a mini masterclass in spiccato bursts, demonstrating ideal bow pressure and attack. But in the Andante he let the long arches unfold with commensurate bow strokes – so luxurious that one could imagine cupping the closing bars in both hands.
In between, Chopin's Introduction and Polonaise brillante op.3 was delightful, with the cellist showing a clean, economical technique, especially in the flurry of harmonics near the end. And though the honours were fairly evenly divided during the night, the formidable piano role gave Wang a bit more of the spotlight.
As the first encore, 'The Swan' from Saint-Saëns's Carnival of the Animals avoided cliché in favour of delicacy and stirring presence. And for the last word, the duo dispatched Piazzolla's Le Grand Tango with sizzling abandon.
Photo: Fadi Kheir