Leah Hollingsworth gives her thoughts on the performance of Bach's first three Cello Suites at New York's 92Y on 27 January 2022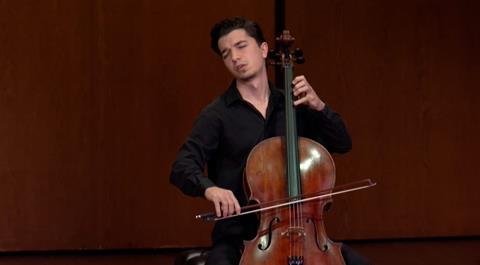 Brazilian–American cellist Gabriel Martins made his New York City mainstage debut at the 92Y in January with a performance of Bach's first three unaccompanied Cello Suites. He launched into the G major with the most gentle and unassuming Prelude, immediately capturing the ear with the clarity of his line. Throughout, his playing was clean but never sterile, and his attention to nuance and rubato didn't disrupt the overall metre. The ritardando that brought the G major's Allemande to an end was exquisite, and the Courante was not too brisk.
The D minor Suite had a fine sombreness to it and I loved his arpeggiated chords at the end of the Prelude and the ornamentation in the Allemande. However, in this suite as well as elsewhere, I wished for a bit more spontaneity in the faster movements. His approach was consistently measured and beautiful, but at times I could have done with more risk-taking. Martins addressed the crowd before the final suite, thanking everyone for 'taking a chance on me, a young musician' (he stepped in at the last minute to replace Steven Isserlis, who had visa problems).
Martins's C major Prelude was quite moving – on the fast side but beautiful in execution and timing. I loved his Courante – also quick, but flawlessly played and with remarkably clean articulation and graded dynamics. Solo Bach is intensely personal – to perform, to practise and to hear – and I rarely find it completely satisfying in concert. However, Martins's sense of style and unassuming approach, combined with his lithe, effortless ability on the cello, made this a deeply moving experience. I only wish he had played all six suites!
LEAH HOLLINGSWORTH
Photo: courtesy 92Y