Leah Hollingsworth attends the performance at New York's Washington Irving High School on 1 May 2022, part of the People's Symphony Concerts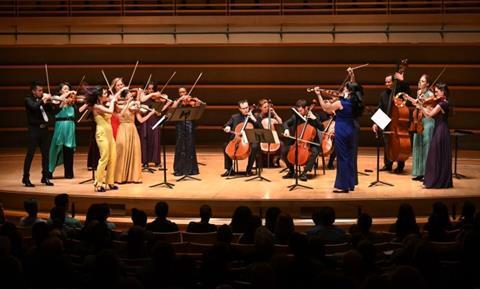 'Exaltation' from Adolphus Hailstork's Sonata da chiesa (1992) was a fitting opening for the East Coast Chamber Orchestra's thoughtful and energetically performed programme. The group started with fantastic energy and a characteristic richness of sound, and in the sombre movements the players found a deep beauty, not least Ayane Kozasa's viola solo in 'Adoration'. I would have appreciated an even more transparent sound in 'Grant us peace', but overall the ensemble's intensity proved captivating in this meditative work.
The second movement of Jennifer Higdon's Concerto for Orchestra (2002) followed, performed with vigour and tremendous energy. The clarity of the opening pizzicatos set the stage for the cascading layers of runs and virtuosic passagework, all of which was executed with fervour and excellent articulation.
The opening sweep of sound in Tchaikovsky's Serenade for Strings was a powerful reminder of both the humanity and otherworldly beauty of music, and ECCO brought tenderness and passion to this well-known work. If at times the semiquavers became a little laboured in the opening movement, there were some nice colours and apt rubato in the Waltz and the violins were impressively unified in the Elegie. The group brought a controlled energy to the Finale and a Bach chorale closed the concert with elegance and repose.
LEAH HOLLINGSWORTH