Bruce Hodges attends the performance of Mahler, Hailstork and Jessie Montgomery at the Perelman Theater, Philadelphia, PA, on 9 May 2023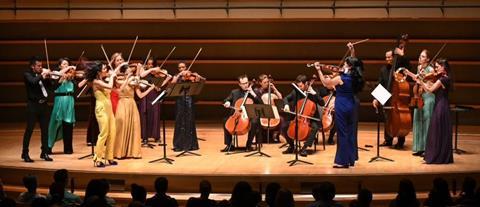 String orchestras don't seem to get much love, at least in America, so the opportunity to hear 14 string players – a composite of the East Coast Chamber Orchestra and the Jupiter Quartet – was irresistible. In its death-defying arrangement by Mahler, Schubert's 'Death and the Maiden' Quartet grew, flaunting more outsized emotional extremes. If anything, the ten extra strings added even more pathos and symphonic range to the existing profundity. The sizzling finale was particularly exhilarating – tautly managed at breakneck speed, and without a conductor.
Opening the evening was Sonata da chiesa (1990) by Adolphus Hailstork, now 82 years old and living in Virginia. This is a luminous bit of mid-century radiance that seems not unrelated to, say, the tonality of Samuel Barber. In the pleasing Perelman Theater acoustic, the glow emanating from the ensemble reminded me that string orchestras can conjure up a wider range of textural variety and splendour than some imagine.
In between came Jessie Montgomery's Banner!, written for the 200th anniversary of the US national anthem. Instead of a straightforward tribute to 'The Star-Spangled Banner', Montgomery was inspired to ask questions about the nature of patriotism. Her intriguing results encompass a Charles Ivesian range of influences, eventually colliding in a riotous bolt of colour at the end.
But the Schubert/Mahler will linger longest in the memory: the minds and hands of these talented musicians brought an iconic work to blazing new life.
BRUCE HODGES